Alana Parks, a creative digital marketer, who founded POST Inc. in 2018, shows us by example how with a positive mindset one can achieve whatever they dream of. There were definitely a lot of ups and downs that Alana faced in her life. In fact, even now not all is perfect in her life. Still, she genuinely believes that it's just one of those things you have to accept when running your own business, and learn from it and try not to make the same mistakes. To quote an example from her own journey, she lost all of her clients not once but on two separate occasions. 
But that made her understand the importance of keeping her sales pipeline full. Also, Alana, like many of us, even came into issues with the IRS. But what sets her apart from most of us is her mindset. Alana Parks desire to help other small business owners with social media marketing has led her to make astute use of the power of social media platforms.
Currently, Alana has been able to build a digital community of 50,000+ small business owners and has also spoken alongside billionaires Mark Cuban and Sally Krawcheck at a 2021 financial summit for young entrepreneurs. Also, Alana has recently partnered with the largest, fastest-growing social media platform to help coach small business owners on social media marketing. An inspiring step that many of us should aim to emulate!
Alana came to us because she wanted to boost her business as well as her social media credibility and authority.
CONSULTATION

We had an initial consultation call with Alana Parks, where we identified her goals and requirements. On the call, we discussed the PR strategy we would implement in the upcoming months.

ROADMAP TO SUCCESS

Based on the needs of Alana Parks, we worked with her to build out a roadmap of publications, a timeline, and a trajectory for success that will best elevate the digital authority of her brand.

GET TO WORK

We sent her a questionnaire that we would leverage to craft her content. Then, we began the process of content creation and getting her featured on the agreed publications.
Alana Parks is widely known as a digital marketer and social media influencer, however, she wanted to further boost her business as well as her social media credibility and authority. What we needed to do was to craft out a unique angle for Alana's story and help her to get press features in different major publications.
Present Alana's success story from a unique angle and boost her brand awareness.

Improve Google search presence for Alana Parks and her business.

Boost her social media credibility and authority by positioning Alana Parks as an expert social media marketer and social media influencer.

Generate enough press so that it could, later on, be used as leverage to get on even bigger media outlets if needed.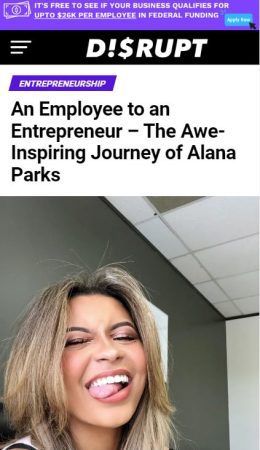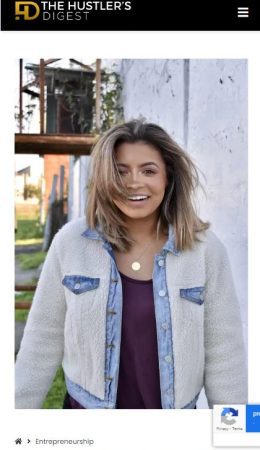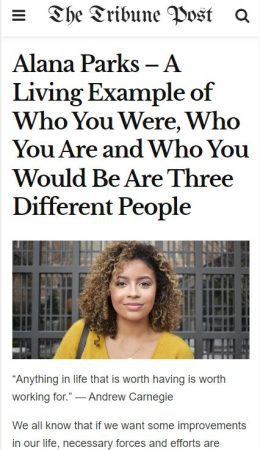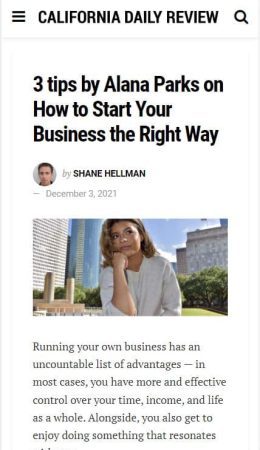 Alana Parks was featured in several publications including Disrupt Magazine, The Hustler's Digest, and more.




Created compelling content and strategically got it placed on major media outlets to position Alana Parks as an expert in her field.




Boosted press exposure, and brand credibility tremendously.




Attained a lot of powerful media coverage, hence laying the initial foundation for social media verification in the future.
Alana's Video Testimonial