Antonio Underwood is a music scholar who values curriculum diversity and interdisciplinary methods of approaching the world's problems. In his 30 years of playing music, Antonio has culminated a long list of achievements that have helped him earn a respectable name as an expert tuba player.
He has invested time, effort, and life in promoting the one thing that he feels strongly about – jazz music. He was the first African-American to become a George Lucas Scholar in the Scoring for Motion Pictures and Television program at the University of Southern California. He is also amongst the first few African-Americans given the Yale School of Music Alumni Prize for outstanding contribution to the Yale community. Yale University also awarded him African-American Cultural Center Award for his contribution to the African-American community and unanimously selected a Delegate of the School of Music this past year.
Antonio is also the proud receiver of a Grammy Award with the McCoy Tyner All-Star Big Band. Throughout his career as a musician, composer, and producer, Antonio has been awarded for his skills and efforts in promoting the musical instruments that many believed were not popular anymore.
For the past thirty years, Antonio has been in the music field, professionally composing and producing recorded music under his own prestigious label, Tone East Music LLC (established in 1994). His label has experience working with some of the biggest names in music Lisa Fischer, Katreese Barnes, Anthony Jackson, Steven Jordan, Guitarist, Jerry Stucker, and jazz trumpet legend, Eddie Henderson. Mentoring young up-and-coming artists such as Melissa St. Hilaire,  the late Rosa Salinas, and Bassell Franks, who Antonio helped raise from one year old.
Antonio Underwood came to us because he wanted to boost his brand further and his social media credibility and authority.
CONSULTATION

We had an initial consultation call with Antonio Underwood, where we identified his goals and requirements. On the call, we discussed the PR strategy we would implement in the upcoming months.

ROADMAP TO SUCCESS

Based on the needs of Antonio Underwood, we worked with his to build out a roadmap of publications, a timeline, and a trajectory for success that will best elevate the digital authority of his brand.

GET TO WORK

We sent him a questionnaire that we would leverage to craft her content. Then, we began the process of content creation and getting her featured on the agreed publications.
Antonio Underwood, a successful music scholar, wanted to boost further his music label and social media credibility. We needed to craft out a unique angle for Antonio's story and help him get press features in different major publications.
Present Antonio Underwood's success story from a unique angle and boost his brand awareness.

Improve Google search presence for Antonio Underwood and his music brand.

Boost brand credibility and authority by positioning Antonio Underwood as a professional music scholar.

Generate enough press so that it could, later on, be used as leverage to get on even bigger media outlets if needed.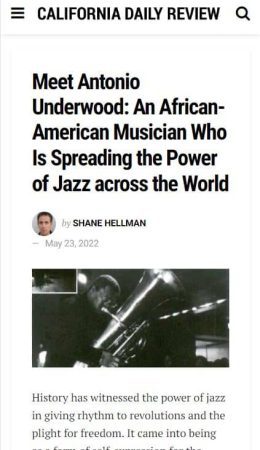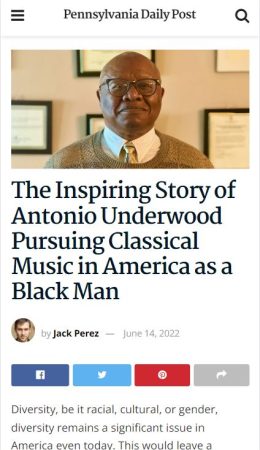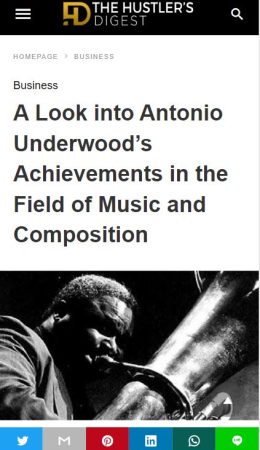 Got Antonio Underwood featured in several publications, including The Ohio Daily, The Inscriber Magazine, and more.




Created compelling content and strategically placed it on major media outlets to position Antonio Underwood as an expert in his field.




Boosted press exposure and brand credibility tremendously.




Attained a lot of powerful media coverage, hence laying the initial foundation for social media verification in the future.
Antonio's Video Testimonial