Ayah Ramadan is a successful presenter at the very young age of 23. She produces and presents her famous talk show "Good News" that airs on Al Aan TV. From the origins of Syria, Ayah was born and grew up in the suburbs of Abu Dhabi. She always had her family's love, support, and encouragement in everything she wanted to pursue. Her liking for the media had already turned into her dream when she graduated high school. That's when Ayah applied for a scholarship to American University in Dubai for her Bachelor of Communication and Information Studies. She secured a scholarship and started to chase after her destiny.
Ayah found her passion for being a TV presenter while making an IGTV series of videos on Instagram where she covered various sensitive and crucial topics. She received overwhelming responses and recognition from her videos. Giving a few interviews for her IGTV video was the first step towards Ayah's career as a presenter, and she decided to pursue the field of TV presenting. "Good News" is Ayah's first project yet most successful and prideful experience as a presenter. 
The Syrian presenter and producer has tremendous social skills and loves to meet and communicate with new people. Her socially dynamic nature helped a great deal in coping up with the socially vibrant field of TV and media. The successful broadcaster was also featured on Dubai billboards twice as part of the 'Al Aan family, 2021. Ayah's skills are not limited to digital media and TV only. She also works as a freelance journalist and has written a few articles in Hia magazine in the jewelry section and translated and written for Modern East magazine in Chalhoub group.
Ayah came to us because she wanted to boost her business and also her social media credibility and authority.
CONSULTATION

We had an initial consultation call with Ayah Ramadan, where we identified her goals and requirements. On the call, we discussed the PR strategy we would implement in the upcoming months.

ROADMAP TO SUCCESS

Based on the needs of Ayah Ramadan, we worked with her to build out a roadmap of publications, a timeline, and a trajectory for success that will best elevate the digital authority of her brand.

GET TO WORK

We sent her a questionnaire that we would leverage to craft her content. Then, we began the process of content creation and getting her featured on the agreed publications.
Ayah Ramadan is widely known as a presenter and social media influencer, however, she wanted to further boost her business as well as her social media credibility and authority. What we needed to do was to craft out a unique angle for Ayah's story and help her to get press features in different major publications.
Present Ayah's success story from a unique angle and boost her program awareness.

Improve Google search presence for Ayah Ramadan and her talk show.

Boost her social media credibility and authority by positioning Ayah Ramadan as an expert presenter, producer, and social media influencer.

Generate enough press so that it could, later on, be used as leverage to get on even bigger media outlets if needed.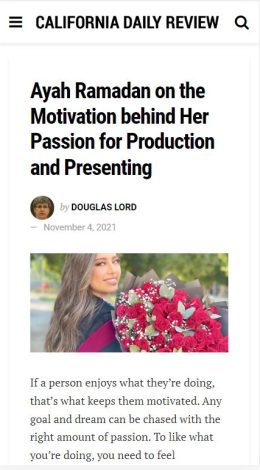 Ayah Ramadan was featured in several publications including Disrupt Magazine, The Hustler's Digest, and more.




Created compelling content and strategically got it placed on major media outlets to position Ayah Ramadan as an expert in her field.




Boosted press exposure, and brand credibility tremendously.




Attained a lot of powerful media coverage, hence laying the initial foundation for social media verification in the future.