Carlton Calhoun is a serial entrepreneur, and a certified e-commerce marketing specialist. He is also a certified personal finance coach who helps entrepreneurs convert their ideas into digital assets that produce recurring revenue consistently.
He has a passion for coaching and teaches people how to successfully navigate and produce income in the foreign and digital currency markets. He also helps people create a digital ecosystem and helps them learn the skill of trading in the foreign exchange, digital currency, and binary options markets.
Carlton came to us because he needed help in getting more press exposure and building more credibility for his brand and podcast.
CONSULTATION

We had an initial consultation call with Carlton Calhoun, where we identified his goals and requirements. On the call, we discussed the PR strategy we would implement in the upcoming months.

ROADMAP TO SUCCESS

Based on the needs of Carlton Calhoun, we worked with him to build out a roadmap of publications, a timeline, and a trajectory for success that will best elevate the digital authority of his brand.

GET TO WORK

We sent him a questionnaire that we would leverage to craft his content. Then, we began the process of content creation and getting him featured on the agreed publications.
Carlton Calhoun, despite having some following on social media, had zero press to his name. Plus, he wanted to take his online presence to the next level. So, we had to focus on creating a unique angle for Carlton's story and leverage our network of connections to get him featured in numerous media publications.
Create powerful content that positions

Carlton Calhoun's brand

strongly in the media.

Place Carlton's brand on top-tier media outlets to gain massive exposure.

Improve the overall personal brand perception of

Carlton Calhoun

by giving an initial press boost to it.

Pave the path to increase future media coverage.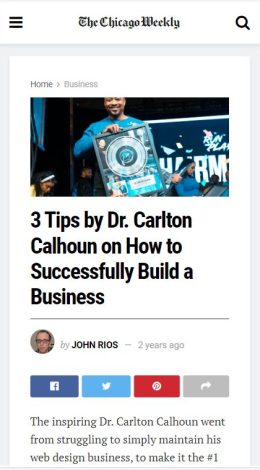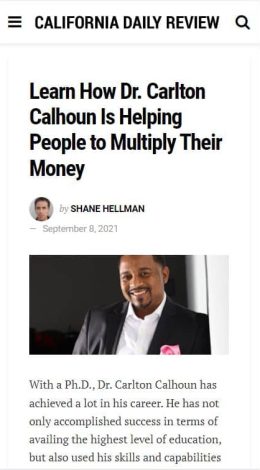 Created powerful content and strategically got it placed on media outlets to position

Carlton Calhoun

as an emerging entrepreneur and influencer.

Improved Carlton's press exposure, brand credibility, and Google presence.

Attained a lot of powerful media coverage, hence laying the initial foundation for moving towards greater goals in the future.
Carlton's Video Testimonial