Carly and Maddie Biron are two sisters and co-owners of Built by Biron, LLC. which is a personal and small group training for health at all sizes. Group fitness classes that can be tailored to anyone at any fitness level. These young business ladies are from Framingham MA. They both were Division 1st swimmers in their student life. During their swimming journey at UMass, they both suffered chronic injuries and learned a lot from them. But their constant efforts to provide qualified fitness training pushed them through all the hard times.
Over some time, they created a safe and comfortable environment where people come to work out with them. They have built up their group fitness classes in Boston at The Grand.  They also started a podcast called "Eat the Damn Cake", it is about changing the narrative in the fitness industry, and it has over 16K downloads.
Only in their twenties they both are self-motivating and want to create a recovery regimen for themselves. Balancing school and a sport taught them a lot has helped them to stay motivated even when it gets overwhelming. Recovery and care for their bodies have been important because of their injuries. They are constantly preaching how important recovery is, and have cultivated an incredible team that keeps their bodies functioning and are able to do their job to the best of their ability. 
CONSULTATION

We had an initial consultation call with Carly & Maddie, where we identified thier goals and requirements. On the call, we discussed the PR strategy we would implement in the upcoming months.

ROADMAP TO SUCCESS

Based on the needs of Carly & Maddie, we worked with them to build out a roadmap of publications, a timeline, and a trajectory for success that will best elevate the digital authority of their brand.

GET TO WORK

We sent them a questionnaire that we would leverage to craft their content. Then, we began the process of content creation and getting them featured on the agreed publications.
Carley and Maddie Biron were widely known for their fitness training brand Built By Biron. However, they wanted to further boost their brand credibility and authority. What we needed to do was to craft out a unique angle for their story and help them to get press features in different major publications.
Present Carley and Maddie Biron's success story from a unique angle and boost their brand awareness.

Improve Google search presence for Carley, Maddie and their company.

Boost brand credibility and authority by positioning Carley and Maddie Biron as an expert in the fitness training industry. 

Generate enough press so that it could, later on, be used as leverage to get on even bigger media outlets if needed.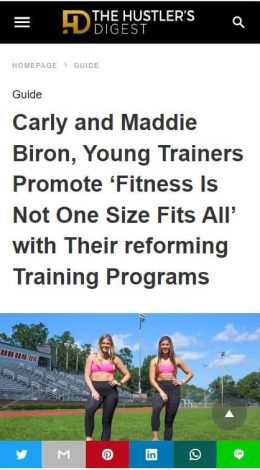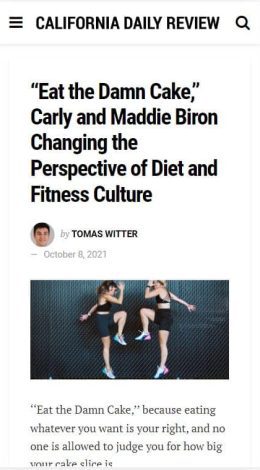 Got Carley and Maddie Biron on several publications including Disrupt Magazine, The Hustler's Digest, and more.




Created compelling content and strategically got it placed on major media outlets to position Carley and Maddie Biron as an expert in their field.




Boosted press exposure, and brand credibility tremendously.




Attained a lot of powerful media coverage, hence laying the initial foundation for social media verification in the future.
What Carly and Maddie Biron Has To Say
Carly's and Maddie Biron's Video Testimonial