David Cinelli is a local real estate agent at Royal LePage, Canada's real estate brokerage servicing in Toronto. Even though his father became a real estate investor at the age of 20 (and showed him the ropes at an early age), David didn't discover his hidden passion until much later after being involved in multiple kinds of jobs related to different fields.  
His father strived to give his children and wife a better life than what he had. He worked hard as a hairstylist, but most of his wealth was earned in real estate and due to this, he was able to accumulate enough wealth to afford quality education for his children. David attended private schools, got a scholarship for hockey at the University of Wisconsin-Stevens Point where he did his bachelor's, and then got an MBA degree from Wilfrid Laurier before starting into the workforce full time. His first full-time job at Toronto Hydro started in 2006 where he realized how much the government takes for taxes. He read numerous investment books and discovered that selling rental properties was one of the best forms of passive income which could mitigate the amount of money that is spent on taxes. He soon discovered that, like his father, his true love and passion lies in real estate.
As the top producer and award-winning realtor, he is doing exceptionally well in the real estate market. He was awarded the Red Diamond Award three times, along with the Director's Platinum Award and President's Gold Award. He was in the top 1% of the Toronto Real Estate Board and the top 2% of Royal LePage realtors across all of Canada. However, this year he aims to be included in the top 1% of Royal LePage agents and is right on track to achieve this goal.
Moreover, David is also a co-host of an exciting new real estate show for HGTV Canada called the Hot Market. This show is all about the hustle of buying and selling properties, landing the biggest listings, and earning top dollar through transformative renovations. It follows 5 top real estate agents, including David Cinelli, as they navigate Canada's most competitive housing market.
David came to us because he wanted to further boost his services credibility and authority.
CONSULTATION

We had an initial consultation call with David Cinelli, where we identified his goals and requirements. On the call, we discussed the PR strategy we would implement in the upcoming months.

ROADMAP TO SUCCESS

Based on the needs of David Cinelli, we worked with him to build out a roadmap of publications, a timeline, and a trajectory for success that will best elevate the digital authority of his brand.

GET TO WORK

We sent him a questionnaire that we would leverage to craft him content. Then, we began the process of content creation and getting him featured on the agreed publications.
David Cinelli was widely known for his expertise in the industry of real estate, however, He wanted to further boost Their services credibility and authority. What we needed to do was to craft out a unique angle for their story and help them to get press features in different major publications.
Present David's success story from a unique angle and boost their business awareness.

Improve Google search presence for David Cinelli and his business of the real estate.

Boost brand credibility and authority by positioning David Cinelli as an expert in the Real estate industry. 

Generate enough press so that it could, later on, be used as leverage to get on even bigger media outlets if needed.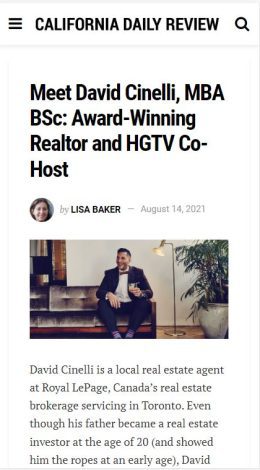 Got David Cinelli on several publications including Disrupt Magazine, The Hustler's Digest, and more.

Created compelling content and strategically got it placed on major media outlets to position David Cinelli as an expert in His field.

Boosted press exposure, and brand credibility tremendously.

Attained a lot of powerful media coverage, hence laying the initial foundation for social media verification in the future.
David's Video Testimonial