Dennis Yu is an American digital expert who loves to provide mentorship and share his insights on managing campaigns. He is a world-renowned lecturer and speaker on Facebook Marketing having the privilege of presiding over 730 times for various platforms in almost 20 countries.
Dennis Yu is a youth empath and he has made it his mission of life to use his over 30 years of experience in digital marketing to train young adults by offering them courses and business consultancy. Dennis graduated in Finance and Economics from the Southern Methodist University and London School of Economics in 1997. Venturing into the digital world was sheer luck and good timing for him.
Dennis co-founded the digital marketing company, BlitzMetrics in which he partners with schools and universities to train young adults of today to be able to drive leads and sales by managing ad campaigns for enterprise clients. His amazing skills as a marketer and branding expert have been lauded and featured in The Wall Street Journal, New York Times, LA Times, National Public Radio, TechCrunch, Fox News, CNN, CBS Evening News. he has also co-authored "Facebook Nation" – a textbook taught in over 700 colleges and universities. Dennis is the ultimate marketing guru with an innate desire to teach and empower the young minds of today and specialize them in the field of branding and marketing. 
Dennis has also held executive positions at Yahoo! and American Airlines. In 2018, he was also awarded as the top speaker at the PPC Caesar's Award. Dennis entered the digital marketing field when he was not even a mainstream professional like he is today. He is an expert at all things related to digital marketing as he has been a part of its birth, growth, and development. He is well versed in the best practices, trends, and tactics for personal branding and marketing. 
Dennis is a source of inspiration for the youngsters and constantly engages in being a guiding light for them. He uses social media and his company to provide mentorship to all those aspiring to change their lives using the digital space.
Dennis came to us because he wanted to boost his business and also his social media credibility and authority.
CONSULTATION

We had an initial consultation call with Dennis Yu, where we identified his goals and requirements. On the call, we discussed the PR strategy we would implement in the upcoming months.

ROADMAP TO SUCCESS

Based on the needs of Dennis Yu, we worked with him to build out a roadmap of publications, a timeline, and a trajectory for success that will best elevate the digital authority of his brand.

GET TO WORK

We sent him a questionnaire that we would leverage to craft his content. Then, we began the process of content creation and getting him featured on the agreed publications.
Dennis Yu was widely known as a mentor and digital marketing expert, however, he wanted to further boost his business as well as his social media credibility and authority. What we needed to do was to craft out a unique angle for Dennis's story and help him to get press features in different major publications.
Present Dennis's success story from a unique angle and boost his business awareness.

Improve Google search presence for Dennis Yu and his company.

Boost his social media credibility and authority by positioning Dennis Yu as an expert mentor and digital marketer.

Generate enough press so that it could, later on, be used as leverage to get on even bigger media outlets if needed.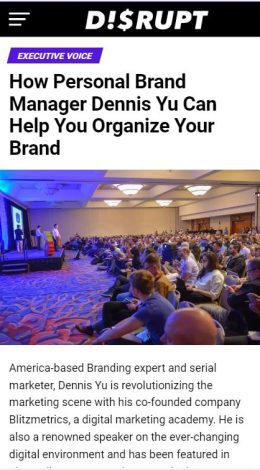 Dennis Yu was featured in several publications including Disrupt Magazine, The Hustler's Digest, and more.




Created compelling content and strategically got it placed on major media outlets to position Dennis Yu as an expert in his field.




Boosted press exposure, and brand credibility tremendously.




Attained a lot of powerful media coverage, hence laying the initial foundation for social media verification in the future.
Dennis's Video Testimonial