Henry Coffie is a talented fashion designer specializing in classic bespoke menswear and is also a successful business visionary. He entered the colorful world of fashion and design as an internee in Paris where he worked with a suit store called Yves Dorsey. In addition to this, he also worked with a men's wear store in Paris called 3eme Stella Rosso.
All of these different stores led to his increased love for men's style and also lit his significant interest in designing suits. Despite all the stores he worked in, he was inspired the most by the immaculate European-style suits when he worked with Nicolas Massing London. The European designs and clean cuts of the suits were something that Henry was immediately drawn towards. His passion and determination soon made him believe that he too could make similar (or even better) designs. Henry is extremely enthusiastic about the suits that he designs as well as the sheer style and extravagance of an ideal tailor fit. Therefore, he makes sure to provide his customers with the best quality products and excellent customer service.
The experience that he gained after working with various men's suit stores in Paris drove him to finally move to America in 2017. He shifted to America in order to pursue his lifelong dreams and ambitions. Although this transition from Europe to America was very difficult, he did not lose hope and worked hard to achieve something. Be that as it may, he was resolved to become the best menswear fashion designer in the world and therefore started to assemble his customer base portfolio. In addition to this, he also began to create networks with local suit designers in Philadelphia to expand his insight into the fashion industry there. Henry expresses that he does this work exclusively on the grounds that he is passionate about it. He further says that he loves the extravagance and luxury of an entirely customized and perfectly tailored suit, and how it communicates the grace of the individual who wears it. Thus, it was his sheer passion and love for fashion that drove him to start his own business, and he opened his first shop in America in May 2017 which has since been a significant accomplishment for him. 
His store offers a variety of men's conventional suits that are inspired by European designs. Apart from this, his brand also provides excellent and unique styles of an assortment of fits including standard, slim, and custom. Every one of his fits is made to give the customers a perfectly tailored look that praises their body type. In addition to this, the way the suit fits gives an overall polished look and makes sure that the individual wearing it oozes with class and sophistication. Moreover, Henry Coffie has likewise been granted various awards. He was regarded with the excellence award by The Fashion 500 in NYC and was also given the Fashion Designer 2019 Upper Darby Philadelphia award. What's more, is that his name was also added to the Best Fashion Designer 2020 Business Hall of Fame.
CONSULTATION

We had an initial consultation call with Henry Coffie, where we identified his goals and requirements. On the call, we discussed the PR strategy we would implement in the upcoming months.

ROADMAP TO SUCCESS

Based on the needs of Henry Coffie, we worked with him to build out a roadmap of publications, a timeline, and a trajectory for success that will best elevate the digital authority of his brand.

GET TO WORK

We sent him a questionnaire that we would leverage to craft his content. Then, we began the process of content creation and getting him featured on the agreed publications.
Henry Coffie had a good following on social media platforms such as Instagram, but he wanted to increase awareness about his brand and boost its online presence. So, our aim was to get Henry Coffie featured on top-tier media publications in order to boost his brand credibility. Hence we needed to leverage our network of connections to get him featured on some of the biggest media outlets that we have access to. 
Create unique and engaging content for Henry based on his story and help him gain worldwide recognition.

Boost brand credibility and authority by positioning Henry Coffie as an expert in the fashion industry.

Improve Google search presence for his brand name.

Generate enough press so that it could later on be used as leverage to get on even bigger meda outlets if needed.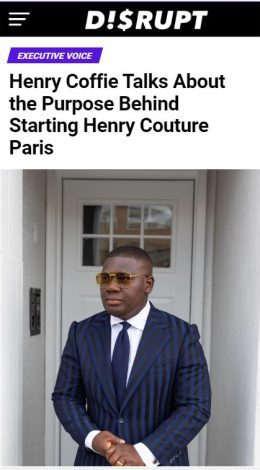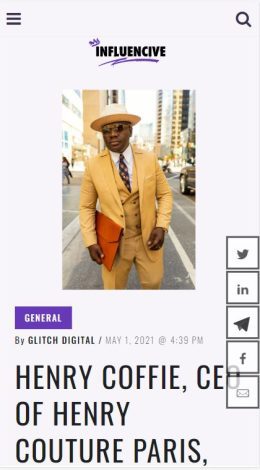 Got Henry Coffie featured on some of the world's biggest media outlets including Yahoo News, The Hustler's Digest, Disrupt Magazine, and many more.

Boosted Henry Coffie's press exposure, and brand credibility.

Created powerful content and strategically got it placed on major media outlets to position Henry Coffie as an authority in the fashion industry.




Improved Google search presence for the keyword "Henry Coffie", as many of the press articles we did are now ranking for that keyword. This will help a lot in the long-term, and will unlock the doors to many opportunities for him and his brand.

Laid a foundation for social media verification in the future.
Henry Coffie's Testimonial