Growing up in a small Canadian town, Hollyann Carroll always desired to be a model, and she had the perfect looks and aptitude for it. Her mother's support and her hard work and determination paid off and she won the prestigious Miss Canada Tourism beauty pageant. Holly genuinely loves to give back to and get involved in her community. She is a member of various charitable organizations including Gravenhurst Against Poverty, The  Karebear Community, and her own organization that teaches self-confidence and self-worth to girls. 
Hollyann's love for helping people and making them feel comfortable motivated her to establish a career in real estate where she guides people through the process of discovering their dream homes. Her favorite part is meeting new people each day and being able to take a peek into their dreams. She is also emerging as the expert on waterfront properties near Muskoka, Haliburton, and Kawartha Lakes. She aims to be the top realtor in Muskoka. With high hopes, and commendable negotiation and sales skills along with her fun, young, and compassionate personality Hollyann is in the right direction to achieve her dreams while she is helping others achieve theirs. 
She came to us because she needed help in getting more press exposure and building higher credibility for her real estate venture.
CONSULTATION

We had an initial consultation call with Hollyann Carroll, where we identified her goals and requirements. On the call, we discussed the PR strategy we would implement in the upcoming months.

ROADMAP TO SUCCESS

Based on the needs of Hollyann Carroll, we worked with her to build out a roadmap of publications, a timeline, and a trajectory for success that will best elevate the digital authority of her real estate brand.

GET TO WORK

We sent her a questionnaire that we would leverage to craft her content. Then, we began the process of content creation and getting her featured on the agreed publications.
Hollyann Carroll had a following on social media but had zero press to her name. Therefore, she wanted to take her online presence to the next level. So, we had to focus on creating a unique angle for Hollyann's story and leverage our network of connections to get her featured in numerous media publications.
Create powerful content that positions Hollyan

n Carroll

and her company in a powerful way in the media.

Place Hollyann and her real estate company on top-tier media outlets to gain massive exposure.

Improve the overall brand perception of Hollyann's real estate venture by giving an initial press boost to it.

Pave the path to more future media coverage.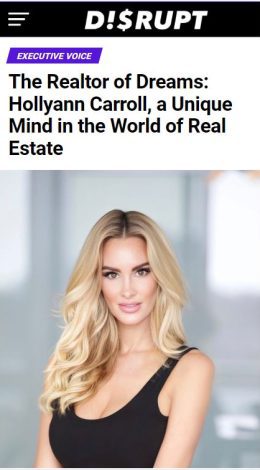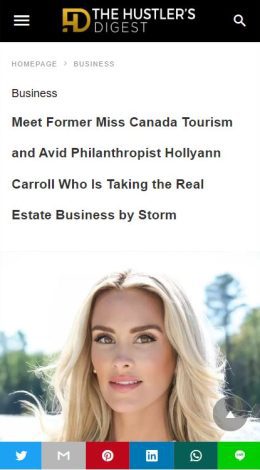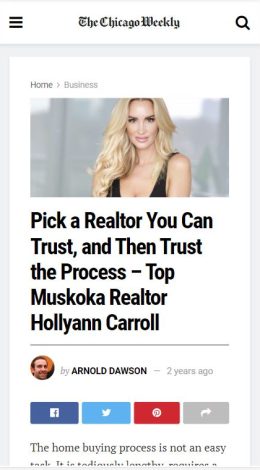 Created powerful content and strategically got it placed on major media outlets to position Hollyan

n Carroll

as an emerging brand in the real estate industry.

Improved Hollyann's press exposure, brand credibility, and Google presence.

Attained a lot of powerful media coverage, thus laying the initial foundation for achieving greater goals in the future.
Hollyann's Video Testimonial