Jermany Coney is a successful lifestyle and social media content creator who is constantly influencing the lives of many others like her. Her story is all about courage, bravery, and most importantly, consistency and never giving up. She has worked diligently to earn herself a respectable position and now she is making use of it to help others do the same.
Jermany has also set up her social media business JermanyOnline, she has been very keen on helping other women content creators find what they are looking for. Through social media, she aims to spread as much awareness and information as she can so that others can make use of it in their social media journey.
She is a proud advocate for black people, especially women in the social media industry. Through content creation, Jermany is spreading awareness for this very cause and is fighting for racial equality. 
Jermany Coney came to us because she wanted to boost her brand further and her social media credibility and authority.
CONSULTATION

We had an initial consultation call with Jermany Coney, where we identified her goals and requirements. On the call, we discussed the PR strategy we would implement in the upcoming months.

ROADMAP TO SUCCESS

Based on the needs of Jermany Coney, we worked with her to build out a roadmap of publications, a timeline, and a trajectory for success that will best elevate the digital authority of her brand.

GET TO WORK

We sent her a questionnaire that we would leverage to craft her content. Then, we began the process of content creation and getting her featured on the agreed publications.
Jermany Coney was widely known for her content creation and social media accounts, however, she wanted to boost her social media credibility and authority further. What we needed to do was to craft out a unique angle for Jermany's story and help her get press features in different major publications.

Present Jermany Coney's success story from a unique angle and boost her brand awareness.

Improve Google search presence for Jermany Coney and her content.

Boost brand credibility and authority by positioning Jermany Coney as an expert in the field of content creation.

Generate enough press so that it could, later on, be used as leverage to get on even bigger media outlets if needed.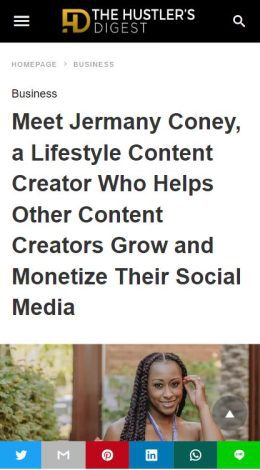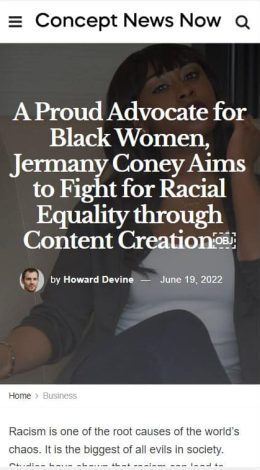 Got Jermany Coney featured in several publications including The Hustler's Digest, New York Daily Trends, and more.




Created compelling content and strategically got it placed on major media outlets to position Jermany Coney as an expert in her field.




Boosted press exposure, and brand credibility tremendously.




Attained a lot of powerful media coverage, hence laying the initial foundation for social media verification in the future.
Jermany's Video Testimonial