Jim Larsen is a top leader in the network marketing space and an entrepreneur. He was not aware of his potential to run a business until much later in his life. Growing up in a middle-class family, he was taught to work hard and trade time for money from a young age. He was struck with a poverty mentality for so long that he started believing that his life was just about fulfilling someone else's dream with no room for his own. As a result, he drifted for years, jumping from one college degree to another. He is a registered nurse by education and now uses his nursing degree to carry out his volunteer work around the world.
He is also the creator of Highlight Link which is a business that serves to be a solution for the lack of websites for businesses. Highlight Link enables people to have a single place where businesses can introduce themselves online, build their rapport, and connect via links to their business, passion, hobbies, or even highlighted products for sale. Its unique selling point is that it doesn't require a lot of time or money hence it is efficient and cost-effective.
Jim Larsen came to us because he wanted to boost his brand further and his social media credibility and authority.
CONSULTATION

We had an initial consultation call with Jim Larsen, where we identified his goals and requirements. On the call, we discussed the PR strategy we would implement in the upcoming months.

ROADMAP TO SUCCESS

Based on the needs of Jim Larsen, we worked with him to build out a roadmap of publications, a timeline, and a trajectory for success that will best elevate the digital authority of his brand.

GET TO WORK

We sent him a questionnaire that we would leverage to craft his content. Then, we began the process of content creation and getting him featured on the agreed publications.
Jim Larsen was widely known for his business which is Highlight Link, however, he wanted to boost his social media credibility and authority further. What we needed to do was to craft out a unique angle for Jim's story and help him get press features in different major publications.

Present Jim Larsen's success story from a unique angle and boost his brand awareness.

Improve Google search presence for Jim Larsen and his business.

Boost brand credibility and authority by positioning Jim Larsen as an expert in marketing. 

Generate enough press so that it could, later on, be used as leverage to get on even bigger media outlets if needed.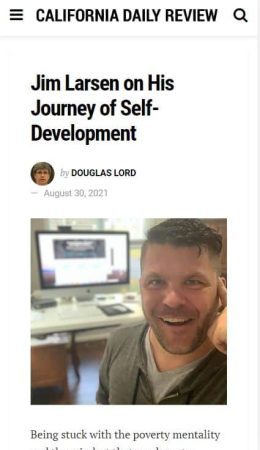 Got Jim Larsen featured in several publications including The Hustler's Digest, California Daily Review, and more.




Created compelling content and strategically got it placed on major media outlets to position Jim Larsen as an expert in his field.




Boosted press exposure, and brand credibility tremendously.




Attained a lot of powerful media coverage, hence laying the initial foundation for social media verification in the future.