Free-spirited Justin recognized his talent and skills at an early age. When he was in his teens, he decided to start his business ventures with a car cleaning business but was unsuccessful in keeping it running. Fate had something else in store for him, and instead of being demoralized by the failure, Justin continued to look for better opportunities. His search led him to find his inner talent, and consequently, Justin picked acting as a career which turned out to be the best decision of his life.
Justin gave credit to his consistency as the main thing that helped him achieve substantial success… "Starting a business is like growing a plant; you have to know how to nourish it right and give it the right ingredients to help it grow," says Justin Alphabet. This quote simply states that only starting a business is not the primary goal; running it to grow with patience and consistency takes your business and life to higher heights.
As Justin Alphabet follows consistency, he has always overcome losses, accepting the fact that ups and downs are a part of life. Celebrating the wins definitely makes everything sweeter. Justin is an exemplary icon for the people who struggle to remain hopeful in the face of adversities and hard times. Keep pursuing your dreams.
Justin Alphabet came to us because he wanted to boost his business further and his social media credibility and authority.
CONSULTATION

We had an initial consultation call with Justin Alphabet, where we identified his goals and requirements. On the call, we discussed the PR strategy we would implement in the upcoming months.

ROADMAP TO SUCCESS

Based on the needs of Justin Alphabet, we worked with him to build out a roadmap of publications, a timeline, and a trajectory for success that will best elevate the digital authority of his brand.

GET TO WORK

We sent him a questionnaire that we would leverage to craft his content. Then, we began the process of content creation and getting him featured on the agreed publications.
Justin Alphabet wanted to further boost his business as well as his social media credibility and authority. What we needed to do was to craft out a unique angle for his story and help him get press features in different major publications.

Present Justin Alphabet's success story from a unique angle and help him gain worldwide recognition.

Improve Google search presence for Justin Alphabet.

Boost social media credibility and authority by positioning Justin Alphabet as a successful actor.

Generate enough press so that it could, later on, be used as leverage to get on even bigger media outlets if needed.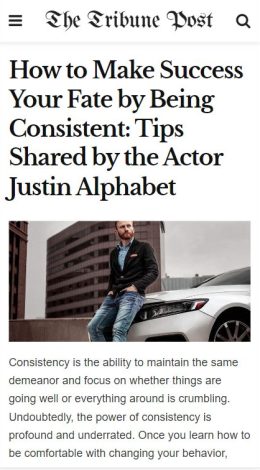 Got Justin Alphabet featured in several publications includingThe Hustler's Digest, Disrupt Magazine, The Chicago Weekly, Concept News Now, and more.




Created compelling content and strategically got it placed on major media outlets to position Justin Alphabet as an expert in his field.




Boosted press exposure, and online presence tremendously.




Attained a lot of powerful media coverage, hence laying the initial foundation for social media verification in the future.