Owner of 2 companies and a successful Amazon FBA mentor, Justin Cao came to the USA from Vietnam in 2014, clinging onto just hopes and dreams and a fire burning deep inside him, telling him to achieve something in life. 
Born and raised in Vietnam, Justin has seen the bleak side of life. He was academically sound and was a student of pure sciences with a knack for STEM. He was among the first international students to receive a STEM scholarship during college. He was selected as a top college tutor for chemistry and physics during his college time at North Lake college. Since he was an exceptional student himself who excelled in academics, he mentored high school students to prepare for their science test and college scholarship applications. 
Today he leads private label brand building companies on Amazon and Shopify. Sourcing his products from China, he has also partnered with distribution giants like Walmart, Etsy and Ebay to distribute his products across the world. 
As an immigrant who came to the USA with nothing, achieving all this is huge. He has created a whole new life for himself and gained the confidence to help other immigrants seeking financial freedom too. He is a source of inspiration for not just immigrants but also all Americans.
Justin Cao came to us because he wanted to boost his business further and his social media credibility and authority.
CONSULTATION

We had an initial consultation call with Justin Cao, where we identified his goals and requirements. On the call, we discussed the PR strategy we would implement in the upcoming months.

ROADMAP TO SUCCESS

Based on the needs of Justin Cao, we worked with him to build out a roadmap of publications, a timeline, and a trajectory for success that will best elevate the digital authority of his brand.

GET TO WORK

We sent him a questionnaire that we would leverage to craft his content. Then, we began the process of content creation and getting him featured on the agreed publications.
Justin Cao, a 7 figure Amazon and Shopify seller, wanted to further boost his business as well as his social media credibility and authority. What we needed to do was to craft out a unique angle for Justin's story and help him get press features in different major publications.

Present Justin Cao's success story from a unique angle and help him gain worldwide recognition.

Improve Google search presence for Justin Cao and his companies.

Boost social media credibility and authority by positioning Justin Cao as a successful entrepreneur.

Generate enough press so that it could, later on, be used as leverage to get on even bigger media outlets if needed.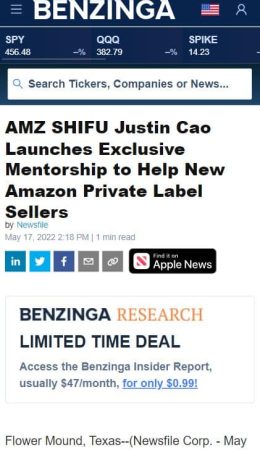 Got Justin Cao featured in several publications including Yahoo Finance, Bloomberg, and more.




Created compelling content and strategically got it placed on major media outlets to position Justin Cao as an expert in his field.




Boosted press exposure, and online presence tremendously.




Attained a lot of powerful media coverage, hence laying the initial foundation for social media verification in the future.
Justin's Video Testimonial