Dr. Laurie Mintz is a licensed psychologist, certified sex therapist, keynote speaker, influencer, best-selling author, and professor of Psychology of Human Sexuality at the University of Florida.
She completed her doctoral training at the Ohio State University in 1987. Dr. Laurie has made notable efforts to highlight and promote an understanding of sexual health. Laurie's contributions to the psychology and sexual empowerment of women include the development of self-help books and entertaining yet engaging social media content. She is the author of Becoming Cliterate: Why Orgasm Equality Matters and How to Get It and A Tired Woman's Guide to Passionate Sex: Reclaim Your Desire and Reignite Your Relationship. Both books intend to help women reclaim their power and pleasure.
Becoming Cliterate received the 2020 SASH Media Award and the 2019 Consumer Book Award from the Society for Sex Therapy and Research.
Dr. Laurie has all the qualifications to be recognized as an authority on contemporary sexual issues. As an influencer of change and women empowerment, Dr. Laurie uses her years of wisdom, sound academic background, and passion for helping women reclaim their power over their bodies to fuel a sex revolution.
She earned recognition from the University of Minnesota School of Medicine as one of the 50 Distinguished Sexual and Gender Health Revolutionaries. She has won multiple teaching awards including, William T. Kemper Fellow for Excellence in Teaching in 2001, Purple Chalk Award in 1992, and Socrates Award for Excellence in Graduate Teaching and Mentoring for outstanding contributions to graduate teaching and mentoring in 1988.
Dr. Laurie also has had the honor of presenting her sex-positive message at TEDx, where she received a standing ovation.
Laurie Mintz came to us because she wanted to boost and strengthen her brand via attention in the media and other sources.
CONSULTATION

We had an initial consultation call with Laurie Mintz, where we identified her goals and requirements. On the call, we discussed the PR strategy we would implement in the upcoming months.

ROADMAP TO SUCCESS

Based on the needs of Laurie Mintz, we worked with her to build out a roadmap of publications, a timeline, and a trajectory for success that will best elevate the digital authority of her brand.

GET TO WORK

We sent her a questionnaire that we would leverage to craft his content. Then, we began the process of content creation and getting her featured on the agreed publications.
Laurie Mintz wanted to further boost her social media credibility and authority. We needed to craft a unique angle for Laurie's story and leverage our network of connections to get her featured on some of the most prominent media outlets.

Present Laurie Mintz's success story from a unique angle and help her gain worldwide recognition

Improve Google search presence for Laurie Mintz and her work

Boost social media credibility and authority by positioning Laurie Mintz as an expert in her field

Generate enough press so that it could, later on, be used as leverage to get on even bigger media outlets if needed as well as help her be a contributor on major websites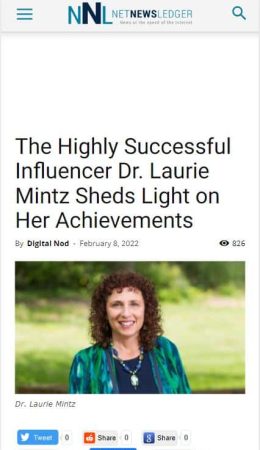 Laurie Mintz featured in several publications, including The Inscriber Magazine, Vents Magazine, The Hustlers Magazine, and more.




Created compelling content and strategically placed it on major media outlets to position Dr. Mintz as an expert in her field.




Boosted press exposure and brand credibility tremendously.




Attained a lot of robust media coverage and

produced a lot of sources online which helped in authenticating her contributions as well as enhancing her online presence

.
Laurie's Video Testimonial