Louise Houghton is a renowned British TV presenter, top broadcast journalist, MC of numerous live events, and a voiceover artist. She has worked for SkySports in the UK and hosted an international lifestyle show EUROMAXX for the German network, DWTV. After creating a name for herself in the media industry of the UK and Europe, she set off to America to expand and explore her career across the globe. 
Louise has a fun-loving, energetic, and warm personality which coupled with her experience in hosting has enabled her to create a mark in Los Angeles. Louise's career as a renowned TV presenter, broadcast journalist, and actor has enabled her to travel the world, see some of the most amazing places and encounter some fascinating people. She has had the privilege of sharing stages with influential people like His Serene Highness Prince Albert II of Monaco while revealing the vessel for the ELECTRIC powerboat racing series, E1.  She has also worked with Michelin-starred chefs for Samsung and on live productions with Daimler, DMEXCO, and the European Space Agency. 
After working for 14 years of her career in the UK and Europe, she decided to explore the Americas and moved to L.A. Her unique British accent and fun nature instantly gained her recognition enabling her to work as a voiceover artist for Universal and ESPN. She also hosted a podcast on wine and is now seen as the face of a new show 'America's Next Investment'. While in LA and living right in the hub of opportunities, Louise is acting once again too, pursuing her age-old passion and she believes everything that challenges her makes life worth living.
The one thing that sets her apart from the others in the industry is that she does not hold herself back from pursuing her heart's desire. If she wants to promote her passion using her skills as a host and media person, she mixes the two and makes a story out of it. She is an avid wine lover, supports the movement to counter climate change, and regularly raises environmental issues on her social media platforms. She has a unique voice that adds a certain gravitas to the content she creates to generate a change across the world. Working with a British accent in the USA has, fortunately, helped her make a mark in the industry.
Louise Houghton came to us because she wanted to boost her brand further and her social media credibility and authority.
CONSULTATION

We had an initial consultation call with Louise Houghton, where we identified her goals and requirements. On the call, we discussed the PR strategy we would implement in the upcoming months.

ROADMAP TO SUCCESS

Based on the needs of Louise Houghton, we worked with her to build out a roadmap of publications, a timeline, and a trajectory for success that will best elevate the digital authority of her brand.

GET TO WORK

We sent her a questionnaire that we would leverage to craft her content. Then, we began the process of content creation and getting her featured on the agreed publications.
Louise Houghton was widely known for her presenting skills. However, she wanted further to boost her brand and social media credibility and authority. We needed to craft out a unique angle for Lousie's story and help her to get press features in different significant publications.
Present Louise's success story from a unique angle and boost her brand awareness.

Improve Google search presence for Louise and her business.

Boost her social media credibility and authority by positioning Louise Houghton as an Expert Presenter.

Generate enough press so that it could, later on, be used as leverage to get on even bigger media outlets if needed.

Attain enough media coverage to meet the eligibility criteria for social media verification in the future

.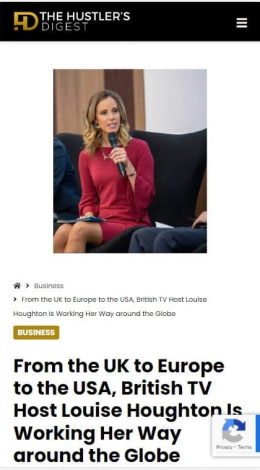 Louise Houghton was featured in several publications, including Concept News Now, The Hustler's Digest, The Chicago Weekly, and more.




Created compelling content and strategically placed it on major media outlets to position Louise Houghton as an expert in her field.




Boosted press exposure and brand credibility tremendously.




Attained a lot of robust media coverage

, which did wonders in authenticating her brand name as well as enhancing her online presence

.
Louise's Video Testimonial