Megan Marie Komosa is a rising blogger and social media influencer. Her specialty is to share her life journey and everyday activities as a 33-year-old mother of two. Megan is also a housewife and stay-at-home mom. She is known for her dynamic social media presence as a social media mom and blogger. 
Megan genuinely cares for the stay-at-home moms and homemakers as she experiences the struggles linked with it. She has put together some tips for all the moms struggling with finding their way and feeling productive using social media.
From the hustle of having kids, struggling with postpartum depression, and everything associated with being a new parent, Megan started her role as a blogger because she felt like she was turning into a bored and unproductive woman. She felt lonely and was recovering from a life-altering injury to her foot. "I felt like I needed a purpose to give me motivation every day and discipline myself," Megan shares the reason behind her social media journey. 
Megan has been familiar with the social media world since the times of MySpace. When she saw digital marketing, social media utilization in business, and the power influencers hold, she decided to jump on the train and be a blogger.
Her first appearance was documenting her journey in a little Instagram video diary. The feed received an overwhelming response, and Megan found a tribe that loves and encourages her for who she is. Social media allows her to manifest her genuine self in front of others. Megan only feels more robust and more confident by sharing her vulnerabilities and struggles to support other women who work with similar issues.
Megan's purpose behind pursuing a blogger's life was to connect with the women walking the same path as she is. She wants to empower those millennial women who are just getting into their mid-life, their thirties, and feeling overwhelmed and a little less than perfect because of the things going on in their mom-world, and they are just trying to raise good humans. 
Megan Marie Komosa came to us because she wanted further to boost her brand and social media credibility and authority.
CONSULTATION

We had an initial consultation call with Megan Marie Komosa, where we identified her goals and requirements. On the call, we discussed the PR strategy we would implement in the upcoming months.

ROADMAP TO SUCCESS

Based on the needs of Megan Marie Komosa, we worked with her to build out a roadmap of publications, a timeline, and a trajectory for success that will best elevate the digital authority of her brand.

GET TO WORK

We sent her a questionnaire that we would leverage to craft her content. Then, we began the process of content creation and getting her featured on the agreed publications.
Megan Marie Komosa was widely known for her creative blogging skills. However, she wanted further to boost her brand and social media credibility and authority. We needed to craft out a unique angle for Megan's story and help her to get press features in different significant publications.
Present Megan's success story from a unique angle and boost her brand awareness.

Improve Google search presence for Megan Marie Komosa and her business.

Boost her social media credibility and authority by positioning Megan Marie Komosa as an expert Blogger.

Generate enough press so that it could, later on, be used as leverage to get on even bigger media outlets if needed.

Attain enough media coverage to meet the eligibility criteria for social media verification in the future

.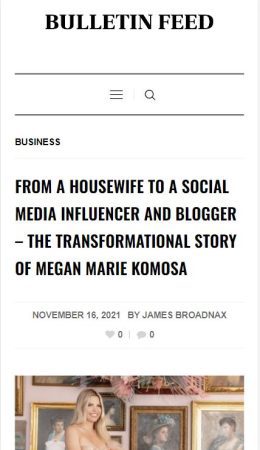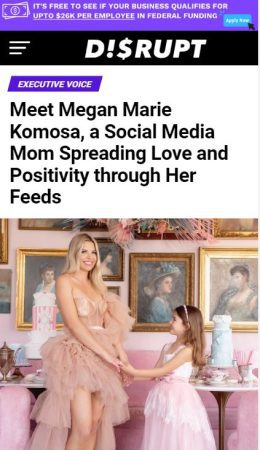 Megan Marie Komosa was featured in several publications, including Disrupt Magazine, The Hustler's Digest, The Chicago Weekly, etc.

Created compelling content and strategically placed it on major media outlets to position Megan Marie Komosa as an expert in her field.




Boosted press exposure and brand credibility tremendously.

Attained a lot of robust media coverage, which did wonders in authenticating her brand name and enhancing her online presence.
Megan's Video Testimonial