Mohammad Sheikh Suliman is a highly successful businessman, angel investor, Arabian Horse World Champion, qualified horse trainer, and founder of the world-renowned Al-Sheikh Stud. Born in 1990, Suliman hails Arab descent and graduated with a degree in business administration and management in 2015. While still in high school, Mohammad Sheikh Suliman launched his first business venture in 2011 that specialized in sleep cycles. Suliman has previously invested in businesses in various categories such as IT companies, health sector companies as well as real estate. Until now he has invested over $7 million into more than 50 companies. Suliman has himself built his fortune through various startups, so he realizes how important investments are for new businesses. 
Mohammad Sheikh Suliman founded the Al-Sheikh Stud 2016, which is one of the world's most renowned Arabian horse studs. Suliman has always been very passionate about horses, especially Arabian horses, and that can be seen in the massive success that the stud has acquired since its opening. The Arabian horse stud has transformed into a leading name in the industry and won multiple championships at the International Arabian Horse Shows. 
The stud owns numerous stallions and mares which are located in both Israel and Belgium. The stud produces the world's most beautiful and successful Arabian horses through their breeding program. Mohammad Sheikh Suliman has proved himself to be a talented and passionate horse breeder and trainer with an exceptional vision. Suliman's passion and dedication have won him and the Al Sheikh stud international recognition and success. 
Mohammad's Arabian horse stud has been just as successful as his previous ventures. Mohammad Sheikh Suliman is truly a man of all works. He showcases immense passion and determination and proves himself in every endeavor that he takes upon.
CONSULTATION

We had an initial consultation call with Mohammad Sheikh Suliman, where we identified his goals and requirements. On the call, we discussed the PR strategy we would implement in the upcoming months.

ROADMAP TO SUCCESS

Based on the needs of Mohammad Sheikh Suliman, we worked with him to build out a roadmap of publications, a timeline, and a trajectory for success that will best elevate the digital authority of his brand.

GET TO WORK

We sent him a questionnaire that we would leverage to craft his content. Then, we began the process of content creation and getting him featured on the agreed publications.
Mohammad Sheikh Suliman had successfully transformed himself into an all rounder, from an angel investor and businessman to a horse stud owner. However, a very essential aspect was missing that could open doors of never ending success for him, and that was press features and social media verification. 
Mohammad Sheikh Suliman wanted to be verified on Instagram, however, with his media presence at that time, it was not possible. He did not qualify for Instagram verification. So we needed to get him featured on major publications, enough to meet the eligibility criteria for Instagram verification. This would position him as a key influencer and businessman in his region.
Create compelling and powerful content about Mohammad Sheikh Suliman's story and rise to success.




Use the compelling content and our connections to get him featured in various renowned media publications so that his brand awareness and media exposure could be increased.  

Use the press features to position Mohammad Sheikh Suliman as one of the leading businessmen of the middle east, and as a key influencer in the horse breeding industry.

Distribute content strategically, to boost his Google search presence.

Attain enough media coverage to meet the eligibility criteria for Instagram verification, and then get him verified.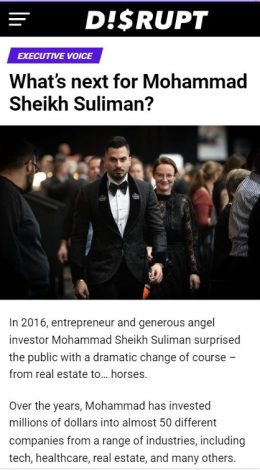 Created powerful content about Mohammad Sheikh Suliman and got it featured on world-class media publications such as Forbes, Yahoo News, International Business Times, TED, and many more.

Worked on his press exposure and boosted his brand credibility.




Strategically placed strong features on major publications, and helped him dominate Google for the keyword "Mohammad Sheikh Suliman".




Presented his story in a unique way and increased his recognition in the Middle East, and other regions.

Got him verified on Instagram which did wonders in authenticating his brand name and enhancing his online presence.



Our media placements boosted his credibility and authority significantly, which even led to him getting interviewed on Vogue.




His followers on Instagram have increased significantly, and due to the press we did for him, he now regularly gets invited to do interviews.
Mohammad Sheikh Suliman's Testimonial