Pedro Bori is a psychology major Mexican author who has successfully published three books so far. He finished his 1st book, a piece of fiction, in only two days. It was a massive success on Pedro's account and set the course of his upcoming achievements. He has also worked as a principal at a foster care in Mexico City, which inspired him to write his second book about parenting. Having spent a struggling life himself, he wants to influence people through his writings and help them improve their lives. 
Pedro also works with an NGO that assists children in recovering from the impact of violence in Mexico. He believes that every problem has a solution, and he can work on finding that solution by doing everything he can to help people. One of Pedro's most powerful habits is believing that life is neutral, and it's a person's mindset that makes him see things as good or bad. 
Pedro came to us because he needed help in getting more press exposure and building higher credibility for his brand.
CONSULTATION

We had an initial consultation call with Pedro Bori, where we identified his goals and requirements. On the call, we discussed the PR strategy we would implement in the upcoming months.

ROADMAP TO SUCCESS

Based on the needs of Pedro Bori, we worked with him to build out a roadmap of publications, a timeline, and a trajectory for success that will best elevate the digital authority of his personal brand as an author.

GET TO WORK

We sent him a questionnaire that we would leverage to craft his content. Then, we began the process of content creation and getting him featured on the agreed publications.
Pedro Bori had some following on social media but didn't have any press to his name. Therefore, he wanted to take his online presence to the next level. So, we had to focus on creating a unique angle for Pedro's story and leverage our network of connections to get him featured in numerous media publications.
Create powerful content that positions Pedro Bori's personal brand in a powerful way in the media.

Place Pedro's personal brand on top-tier media outlets to gain massive exposure.

Improve the overall brand perception of Pedro as an author by giving an initial press boost to him.

Pave the path to more future media coverage.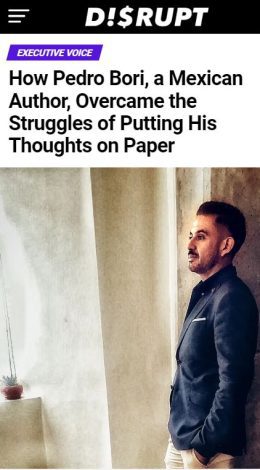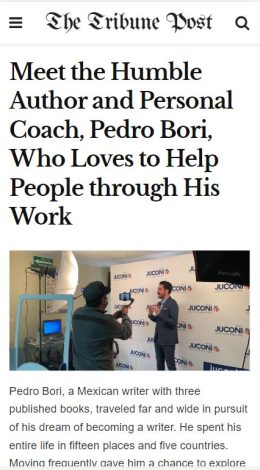 Created powerful content and strategically got it placed on major media outlets to position Pedro as a successful author and entrepreneur.

Improved Pedro's press exposure, brand credibility, and Google presence.

Attained a lot of powerful media coverage, thus laying the initial foundation for achieving greater goals in the future.
Pedro's Video Testimonial