Ryan is originally from Englewood, New Jersey where he attended a Jewish high school and he then went on to graduate from Binghamton University with a degree in Economics and Business. Since graduating college, he has been living and working in Manhattan. After graduating college, Ryan joined Yext where he quickly became a top sales performer for two consecutive years and helped them develop their enterprise offering, which ultimately contributed to them becoming publicly traded on the NYSE. After Yext, he ran the sales and marketing for Betterfly where he paid a major contribution in restructuring their business strategy and bringing on clients across different sectors. He later got involved with organizing events with leaders across all industries, which enabled him to grow his network.
Ryan currently works as the Executive Vice President at Armus Solutions where companies are assisted in protecting and preserving their assets through the power of nanotechnology across different industries like utility, construction, healthcare, and agriculture. He has worked with individuals from Accenture, Coca-Cola, PepsiCo, Google, Apple, Bombardier, Roche, Johnson & Johnson, and a variety of other industry leaders.
Ryan Shemen has also tried his hands-on entrepreneurship and succeeded as a renowned event maestro under the banner name Success with TeamWork in New York. Through this venture, Ryan gained experience in setting up large-scale fundraising efforts for international clients and has organized over a thousand functions. His event managing skills were also tried at fashion shows and corporate events. Providing real-time results and utmost client satisfaction is something he learned to do as an entrepreneur and today uses the same skills in working as the Executive Vice President of Armus Solutions. The company provides eco-friendly solutions to real-world problems.
Ryan came to us because he wanted to further boost his business as well as his social media credibility and authority.

CONSULTATION

We had an initial consultation call with Ryan Shemen, where we identified his goals and requirements. On the call, we discussed the PR strategy we would implement in the upcoming months.

ROADMAP TO SUCCESS

Based on the needs of Ryan Shemen, we worked with him to build out a roadmap of publications, a timeline, and a trajectory for success that will best elevate the digital authority of his brand.

GET TO WORK

We sent him a questionnaire that we would leverage to craft his content. Then, we began the process of content creation and getting him featured on the agreed publications.
Ryan Shemen was widely known as an event maestro, social media influencer and sales skills. However, he wanted to further boost his business and social media credibility and authority. What we needed to do was to craft out a unique angle for Ryan's story and help him to get press features in different major publications.
Present Ryan's success story from a unique angle and boost his mentorship awareness.

Improve Google search presence for Ryan Shemen and his company.

Boost his social media credibility and authority by positioning Ryan Shemen as an expert entrepreneur and sales expert.

Generate enough press so that it could, later on, be used as leverage to get on even bigger media outlets if needed.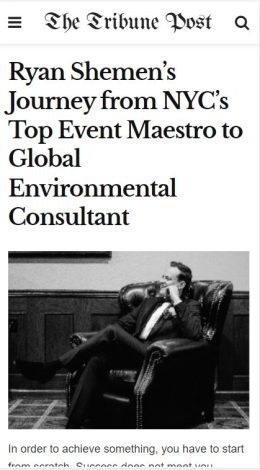 Ryan Shemen featured in several publications including Disrupt Magazine, The Hustler's Digest, and more.




Created compelling content and strategically got it placed on major media outlets to position Ryan Shemen as an expert in his field.




Boosted press exposure, and brand credibility tremendously.




Attained a lot of powerful media coverage, hence laying the initial foundation for social media verification in the future.