Samantha is a 26-year-old fashion designer and entrepreneur who launched the luxury sustainable swimwear brand Beau Swim. She hails from Boston, Massachusetts, where she grew up with her sister and loving parents. Samantha recognized her passion for fashion early on and was fortunate to go to a high school offering fashion and sewing classes. Later, she flew across the country to attend the Fashion Institute of Design and Merchandising in DTLA. She studied Merchandising Product Development and received a BS in Business Management.
Her education enabled Samantha to develop the mindset of an entrepreneur, which allowed her to skyrocket her brainchild Beau Swim to earn the reputation of a game-changer in the fashion industry with its environment-friendly approach while delivering luxury to the customers. Beau Swim has enchanted fashion fans and critics alike by showcasing its luxurious range of swimwear collections at Miami Swim Week 2021 and Monaco Swim Week 2022. They're invitees to the Miami Swim Week 2022, where they'll showcase the much anticipated Laguna Collection. Crediting her perseverance and time management skills for her incredible success in such a short time, Samantha believes this is only the beginning. She's trying to get Beau Swim into more boutiques and aspires to launch an exclusive store.
By overcoming multiple challenges that made her doubt herself, Samantha turned her dreams into reality. She hopes her success story inspires dreamers to stay committed to their goals until achieving them.
Samantha Jones approached us because she needed help getting press exposure so she could build more brand credibility and position herself as an authority in the fashion industry.
CONSULTATION

We had an initial consultation call with Samantha Jones, where we identified her goals and requirements. On the call, we discussed the PR strategy we would implement in the upcoming months.

ROADMAP TO SUCCESS

Based on the needs of Samantha Jones, we worked with her to build out a roadmap of publications, a timeline, and a trajectory for success that will best elevate the digital authority of her brand.

GET TO WORK

We sent her a questionnaire that we would leverage to craft her content. Then, we began the process of content creation and getting her featured on the agreed publications.
Samantha Jones, the Founder of the Luxury Sustainable Swimwear Company Beau Swim, wanted to further boost her business as well as her social media credibility and authority. What we needed to do was to craft out a unique angle for Samantha's story and leverage our network of connections to get her featured on some of the biggest media outlets that we have access to.

Present Samantha Jones's success story from a unique angle and help her gain worldwide recognition.

Improve Google search presence for Samantha Jones and her business.

Boost social media credibility and authority by positioning Samantha Jones as an expert in the fashion industry.

Generate enough press so that it could, later on, be used as leverage to get on even bigger media outlets if needed.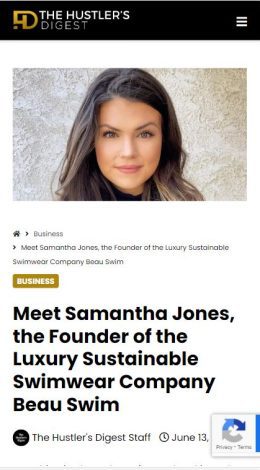 Got Samantha Jones featured in several publications including Miami Daily Post, New York Daily Trends, and more.




Created compelling content and strategically got it placed on major media outlets to position Samantha Jones as an expert in her field.




Boosted press exposure, and online presence tremendously.




Attained a lot of powerful media coverage, hence laying the initial foundation for social media verification in the future.
Samantha's Video Testimonial