Thomas Despin is a 28 years old entrepreneur from France, who has been living in Indonesia for over 3 years. He now lives on a tiny private island, where he founded Reconnect, a sustainable resort offering an authentic island experience, where guests are not just spectators, but actors of life on the island. After discovering Buka Buka Island in Central Sulawesi, Thomas envisioned a place to reconnect with nature, with oneself, and with each other. Reconnect's official opening will be in early 2020, but they already welcome hand-picked guests who want to contribute to the project.
Before developing a remote island from scratch, Thomas made his name in the eCom industry, where he grew a dropshipping store from 0 to $750,000 in sales in 11 months. Thomas is also the owner of Hustlers Villa, a coliving and coworking space for online entrepreneurs in Ubud, Bali.
Thomas' long-term vision in Indonesia is to facilitate foreign investments and to develop high potential untouched areas in a sustainable, conscious, and respectful way.
He came to us because he needed help getting more press exposure and building more credibility for his new venture.
CONSULTATION

We had an initial consultation call with Thomas Despin, where we identified his goals and requirements. On the call, we discussed the PR strategy we would implement in the upcoming months.

ROADMAP TO SUCCESS

Based on the needs of Thomas Despin, we worked with him to build out a roadmap of publications, a timeline, and a trajectory for success that will best elevate the digital authority of his brand.

GET TO WORK

We sent him a questionnaire that we would leverage to craft his content. Then, we began the process of content creation and getting him featured on the agreed publications.
Thomas Despin and his brand "Reconnect" did not have any press exposure when they came to us. One of the major goals he had was to get himself and his company into the press. Since it was a new project, getting into the media wasn't so easy.
Alongside that, Thomas Despin wanted to strengthen his personal brand and improve Google presence for himself and his company.
Create powerful content that positions Thomas Despin and his company in a powerful way on the media.
Place features about Thomas and his company on top-tier media outlets to gain massive exposure.
Get Thomas Despin a Google Knowledge Panel to further strengthen his authority and credibility.
Improve the overall brand perception of "Reconnect" by giving an initial press boost to it.
Pave the path to more future media coverage.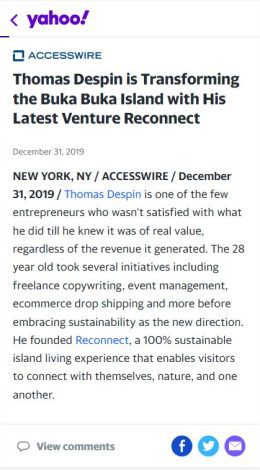 Got Thomas Despin featured on Forbes, Entrepreneur, Yahoo News, MSNBC, BuzzFeed, and many more major media outlets.
Created powerful content that positioned "Reconnect" as an emerging brand in the travel industry.
Improved press exposure, brand credibility, and Google presence.
Achieved a Google knowledge panel for "Thomas Despin".
Thomas Despin's Testimonial