Trudy Zulu was born with an entrepreneurial spirit and grew up in the white river. She spent most of her childhood with her family and was raised by two academics. Trudy inherited the passion for entrepreneurship from her father as he left his job to build a construction company that eventually turned out to be successful. Being raised with the instilled concept of having an open mind and dreaming big, Trudy believes that anything is possible.
Unlike ordinary people, Trudy never minds being a trailblazer and the first one to bring something new to the community. However, believing the fact that her enthusiasm would take her to some sort of pedestal, Trudy decided to kick start her entrepreneurial journey. She feels no shame in telling the world that she failed in her business at first because of being naive and inexperienced back then.
As Trudy is a curvy, tall girl having extra-long arms, she had to struggle with outfits while growing up. Usually, outfits tend to fall short in terms of perfect fit as most brands cater to average-sized women. Consequently, Trudy Zulu decided to create her brand where she could provide clothing with unique features like clothes for women with long arms. She successfully manages her endeavor online by delivering fashiony apparel. 
Trudy's desires do not stop here after having a successful experience. Zapparroh has been considered the brand of the year in the women's clothing category. One of the hundreds gets a chance to wear this crown. However, Trudy pulled out all the stops aiming to make it retail so the customers could experience the brand personally. Trudy Zulu presents herself as a perfect entrepreneur who is passionate and loves her work.
Trudy Zulu came to us because she wanted further to boost her brand and social media credibility and authority.
CONSULTATION

We had an initial consultation call with Trudy Zulu, where we identified her goals and requirements. On the call, we discussed the PR strategy we would implement in the upcoming months.

ROADMAP TO SUCCESS

Based on the needs of Trudy Zulu, we worked with her to build out a roadmap of publications, a timeline, and a trajectory for success that will best elevate the digital authority of her brand.

GET TO WORK

We sent her a questionnaire that we would leverage to craft her content. Then, we began the process of content creation and getting her featured on the agreed publications.
Trudy Zulu was widely known for her entrepreneurial skills. However, She wanted further to boost her brand and social media credibility and authority. We needed to craft out a unique angle for Trudy's story and help her to get press features in different significant publications.
Present Trudy's success story from a unique angle and boost her brand awareness.

Improve Google search presence for Trudy Zulu and her business.

Boost her social media credibility and authority by positioning Trudy Zulu as an expert entrepreneur.

Generate enough press so that it could, later on, be used as leverage to get on even bigger media outlets if needed.

Attain enough media coverage to meet the eligibility criteria for social media verification in the future

.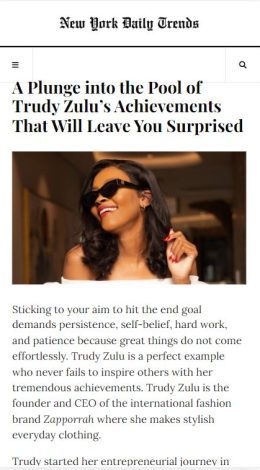 Trudy Zulu was featured in several publications, including The Hustler's, Bulletin Feed, The Chicago Weekly, and more.

Created compelling content and strategically placed it on major media outlets to position Trudy Zulu as an expert in her field.

Boosted press exposure and brand credibility tremendously.

Attained a lot of robust media coverage

, which did wonders in authenticating her brand name as well as enhancing her online presence

.
Trudy's Video Testimonial