Umar Ashraf is a businessman, renowned trader, and a Youtube personality. Umar Ashraf was born in Pakistan but raised in New York. From a very young age, Umar developed a great interest in the working of businesses, and stock trading in particular. At the age of 18, he launched his first ever business venture, a property solutions company that unfortunately, failed drastically. 
However, Umar Ashraf did not let his failure become a hurdle in his future endeavours and buckled up once again to embrace greater achievements. Being knowledgeable in stock marketing to some extent, Umar started trading, and after going through some ups and downs, finally gained consistent profitability in the market. Today, he is a successful trader, as well as a business owner with thousands of fans on Instagram and Youtube world wide.
As Umar succeeded at trading, he took a chance at launching a trading community called the Stock Market Lab in an attempt to help the developing and struggling traders with relevant trading education. Umar further shared that he has been successful in taking the right move, and celebrates a SML community of over 2000+ members.As for now, Umar is working on TradeZella that is a trading feedback tool to aid retail traders with their regular trading decisions and elevate it to a whole new level.
Umar believes in spreading knowledge and leaves no chance of doing so through social media platforms like Instagram and Youtube. He makes the audience learn from his personal experiences and motivates them to make the right moves in the world of trading and investments.
CONSULTATION

We had an initial consultation call with Umar Ashraf, where we identified his goals and requirements. On the call, we discussed the PR strategy we would implement in the upcoming months.

ROADMAP TO SUCCESS

Based on the needs of Umar Ashraf, we worked with him to build out a roadmap of publications, a timeline, and a trajectory for success that will best elevate the digital authority of his brand.

GET TO WORK

We sent him a questionnaire that we would leverage to craft his content. Then, we began the process of content creation and getting him featured on the agreed publications.
Umar Ashraf had a good following on social media platforms such as Instagram, but he wanted to take his online presence and his business to a whole new level. Our main goal was to get Umar Ashraf featured on top-tier media publications in order to boost his brand credibility. So we needed to leverage our network of connections to get him featured on some of the biggest media outlets that we have access to. 
To authenticate his brand and give it a boost, Umar Ashraf also wanted to get his Instagram account verified. He had struggled to achieve this in the past, and had hired many agencies that had failed to deliver.
He reached out to us, and since he was not eligible for verification, what we needed was to get him featured on world class media publications that could help him get his Instagram account verified. 
Create unique and engaging content for Umar based on his story and help him gain worldwide recognition.

Get him enough recognition that he could easily acquire media placements in other famous publications with ease in the future.

Improve Google search presence for his name, so strong media features would rank when potential clients would look him up.

Boost brand credibility and authority by positioning Umar Ashraf as an expert in the stock trading industry.

Use media placements strategically in order to help Umar Ashraf meet the Instagram verification eligibility criteria, and then help him get verified.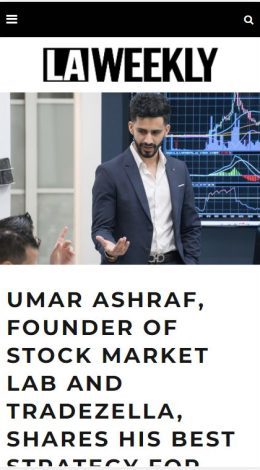 Got Umar Ashraf featured on some of the world's biggest media outlets including Yahoo News, International Business Times, HauteLiving, LAWeekly, TED, and many more.




Boosted press exposure, and brand credibility.




As a result of the press we did for him, he now dominates Google on the keyword "Umar Ashraf".

Created powerful content and strategically got it placed on major media outlets to position Umar Ashraf as an authority in the stock trading industry.

Attained a lot of strong media coverage, and got Umar Ashraf verified on Instagram.
Umar Ashraf's Testimonial