Valentin Bărbulescu, a business coach from Romania who helps other business coaches expand their consulting business, understands why any proactive business owner seeks a qualified business coach. Valentin's entire business model is based on facilitating the business coaches to develop their skill set so sharp that it will generate exceptional business returns. 
To become a priest and initial schooling from a theological school, Valentin Bărbulescu never knew about what the future was holding. He belonged to a poor family in the countryside where his parents worked hard to run a kitchen. If it wasn't for his grandma's retirement money, Valentin wouldn't have been able to attend school. Although, the inherent wish of becoming a worthy life partner made Valentin change his mind and opt for psychology. He developed a keen interest in seduction and worked hard in understanding social dynamics.
Valentin exercised his learnings to accommodate others in developing the same understanding of social behaviours. He started a dating business in a partnership that enabled him to change the lives of hundreds of people. He established a community of more than 100,000 people and improved their lives through transformational processes and dating advice. While running his business as a dating coach, Valentine learned and experienced a lot of things in terms of social dynamics, coaching, and training people to improve and transform their lives. 
Going through the ups and downs of the dating coach business, Valentin recognized his inner need to support people, and it occurred to him that what havoc an incompetent coach may wreak on people's lives. He started his own coaching business to mentor the business coaches regarding their work, growth, and getting real benefits from their coaching business.
Valentin came to us to further boost his business coaching and social media credibility and authority.
CONSULTATION

We had an initial consultation call with Valentin Bărbulescu, where we identified his goals and requirements. On the call, we discussed the PR strategy we would implement in the upcoming months.

ROADMAP TO SUCCESS

Based on the needs of Valentin Bărbulescu, we worked with him to build out a roadmap of publications, a timeline, and a trajectory for success that will best elevate the digital authority of his brand.

GET TO WORK

We sent him a questionnaire that we would leverage to craft his content. Then, we began the process of content creation and getting him featured on the agreed publications.
Valentin Bărbulescu was widely known for his expertise in the industry of Business coaching, however, He wanted to further boost his business coaching along with his social media credibility and authority. What we needed to do was to craft out a unique angle for his story and help him to get press features in different major publications.
Present

Valentin Bărbulescu

success story from a unique angle and boost their business awareness.

Improve Google search presence for

Valentin Bărbulescu

and his business coaching services.

Boost brand credibility and authority by positioning

Valentin Bărbulescu

as an expert in the business coaching industry. 

Generate enough press so that it could, later on, be used as leverage to get on even bigger media outlets if needed.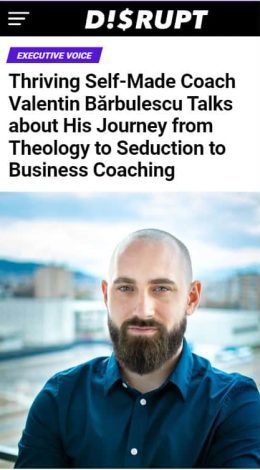 Got

Valentin Bărbulescu

on several publications including Disrupt Magazine, The Hustler's Digest, and more.

Created compelling content and strategically got it placed on major media outlets to position

Valentin Bărbulescu

as an expert in His field.

Boosted press exposure, and brand credibility tremendously.

Attained a lot of powerful media coverage, hence laying the initial foundation for social media verification in the future.
Valentin's Video Testimonial