Henry Calix is a flourishing entrepreneur, aiming to solve the problems faced by the growing cannabis industry.
Henry was born in Honduras and he came to the US when he was 12 years old. Having never met his father and being raised by a single mother, Henry has had a life with its set of challenges. Henry attended Miami Dade College for two years while working at a local dry cleaner, his first job out of high school. He started his first business as a grant writing consultant, but it failed due to the 2008 and 2009 recessions.
Henry Calix today has established himself as an ingenious businessman with great potential. He has multiple flourishing businesses like P3r$Pec71vE PODCAST, Calix Fashion, and Calix Online Financial, as well as Weedsies Online Marketplace.
His venture, Weedsies Online Marketplace, is worth mentioning. It is an online marketplace exclusively catering to those who want to sell and consume the plant, which previously remained taboo in American society. Weedsies has established itself as a technology company redefining the US cannabis industry with innovation and technology. Henry launched the company's website on 4/20/20 (Weed Day) and launched Weedsies Mobile on the same day the following year. What separates Weedsies from other online marketplaces in the industry is that through Weedsies Mobile, they also provide an offline retail avenue to generate a circle of purchases. Besides aiming to unite cannabis companies with private funding, Weedsies offers an online payment solution for the industry and even accepts cryptocurrencies.
Henry Calix was also awarded Business Elite's "40 under 40" at the award gala held at St Regis in New York on June 30th. After tirelessly working to achieve his goals, Henry has positioned his company to be the Amazon/Shopify for cannabis retailers and consumers awaiting the federal legalization of the industry.
It is purely because of this grit and his unquestioning belief in his abilities that he has gained immense recognition for his efforts.
Henry Calix came to us because he wanted to boost their business further and their social media credibility and authority. Henry also wanted to become a contributor on major websites and get interviewed on well-known TV shows.
CONSULTATION

We had an initial consultation call with Henry Calix, where we identified his goals and requirements. On the call, we discussed the PR strategy we would implement in the upcoming months.

ROADMAP TO SUCCESS

Based on the needs of Henry Calix, we worked with him to build out a roadmap of publications, a timeline, and a trajectory for success that will best elevate the digital authority of his brand.

GET TO WORK

We sent him a questionnaire that we would leverage to craft his content. Then, we began the process of content creation and getting him featured on the agreed publications.
Henry Calix, a leading entrepreneur, and CEO of Weedsies wanted to boost his company and social media credibility and authority further. We needed to craft a unique angle for Henry's story, and help him get press features in different significant publications so that he could become a contributor on major websites, and also get interviewed on a TV show.
Present Henry's success story from a unique angle and help him gain worldwide recognition




Improve Google search presence for Henry and his company




Boost social media credibility and authority by positioning Henry Calix as an expert in his field




Generate enough press so that it could, later on, be used as leverage to get on even bigger media outlets if needed




Attain enough media coverage to get him interviews on famous TV shows, and help him to be a contributor on major websites.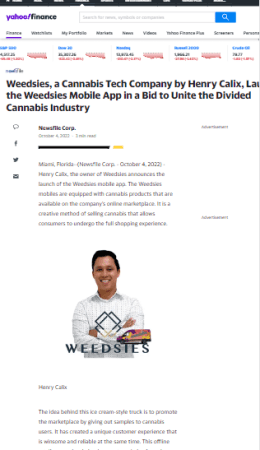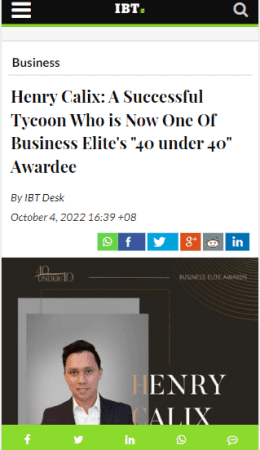 Henry Calix was featured in several publications, including LA Progressive, Business Insider, Yahoo Finance, London Daily Post, and more.




Created compelling content and strategically placed it on major media outlets to position Henry Calix as an expert in his field.




Boosted press exposure and brand credibility tremendously.




Attained a lot of robust media coverage, helped him become a contributor on sites such as London Daily Feed, the Ohio Daily, and many more which did wonders in authenticating his brand name as well as enhancing his online presence