Imbert has been touched by the mental health and homelessness crisis on many levels, as a longtime resident of the Bay Area and not in her own family. She developed her love of group coworking in the libraries at Dartmouth College, where she and her friends would stake out tables for late nights, headphones on, working in parallel, with occasional snack breaks to discuss their essays.

Beginning in 2020, Marguerite Imbert started hosting writers via Zoom. In these groups, which members call 'cohorts,' everyone is working on a book project – a novel, a memoir, a set of essays or poems, some kind of book. The workshops last two months, meeting two to three times a week, with a month in between each, so there's always one to join.
To face the mental health crisis in the Bay Area and beyond, Imbert is teaching workshops that help individuals use the tool of writing. Writing is accessible and extremely powerful. But as Imbert, a longtime yoga and meditation teacher pointed out, "we don't have writing studios on every corner in our city like we have yoga studios."
Imbert started teaching virtually to individuals writing novels beginning in 2020 when the pandemic hit and many creative people were at home with time on their hands. "It felt amazing to share this lifelong tool with other writers, and to see the empowering effects of this tool."
Marguerite Imbert came to us because she wanted to boost and strengthen her brand via attention in the media and other sources.
CONSULTATION

We had an initial consultation call with Marguerite Imbert, where we identified her goals and requirements. On the call, we discussed the PR strategy we would implement in the upcoming months.

ROADMAP TO SUCCESS

Based on the needs of Marguerite Imbert, we worked with her to build out a roadmap of publications, a timeline, and a trajectory for success that will best elevate the digital authority of her brand.

GET TO WORK

We sent her a questionnaire that we would leverage to craft her content. Then, we began the process of content creation and getting her featured on the agreed publications.
Marguerite Imbert wanted to further boost her social media credibility and authority. We needed to craft a unique angle for Imbert's story and leverage our network of connections to get her featured on some of the most prominent media outlets.
Present

Marguerite Imbert

's success story from a unique angle and help her gain worldwide recognition

Improve Google search presence for

Marguerite Imbert

and her work

Boost social media credibility and authority by positioning

Marguerite Imbert

as an expert in her field

Generate enough press so that it could, later on, be used as leverage to get on even bigger media outlets if needed as well as help her be a contributor on major websites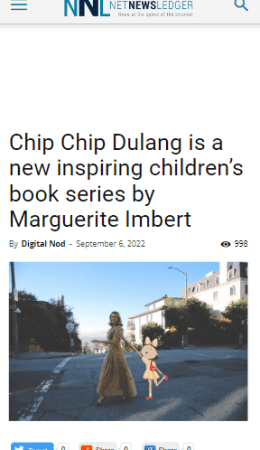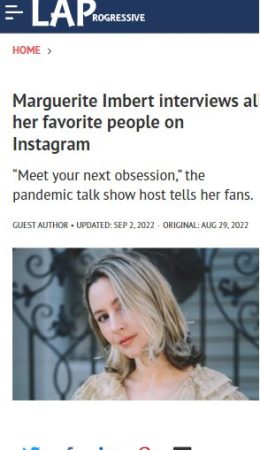 Marguerite Imbert

featured in several publications, including The Inscriber Magazine, LA Progressive, The Hustlers Magazine, and more.




Created compelling content and strategically placed it on major media outlets to position

Marguerite Imbert

as an expert in her field.




Boosted press exposure and brand credibility tremendously.




Attained a lot of robust media coverage and

produced a lot of sources online which helped in authenticating her contributions as well as enhancing her online presence

.
What Marguerite Has To Say