Hailing from Billerica, Massachusetts, Michelle grew up in a blue-collar family where her parents did their best to give her and her brother everything they needed to pursue their dreams. Growing up as a multi-sport athlete and a passionate volunteer, Michelle would always find herself in certain situations where she needed to help people, so she would come to the aid of anyone in need of support.
Volunteering made her realize she needed to make strategic decisions to choose a career where she could make a difference, remain satisfied, and leave a lasting legacy. It was the passion Michelle felt to create a non-profit gym for inner-city kids and orphans that steered her towards the competitive world of health and fitness. It only felt natural that she chose to pursue a master's degree in Public Health and Nutrition later on.
Michelle discovered a sense of commitment and leadership with her efforts, which allowed her to really inspire and empower others. From then on, there was little she couldn't do, and the sky was the limit for her. Later on, she started her own company, MichelleFitCoaching, a fitness and coaching business growing in leaps and bounds under the superlative vision and innovative fitness approaches of the founder.
Knowing how one has to lead by example, Michelle didn't let anything, not even her chronic pain, get in her way of having a healthier lifestyle. It was an act of defiance against anything that threatened to bring her down, showing others that they can overcome anything if they believe they can and that there should be no compromise on health. Our body does so much for us; shouldn't we give it something in return as well? Something that is utterly beneficial for us in the long run?
While training for a bodybuilding competition, Michelle thought starving was what it took and ended up picking up an eating disorder that took her six years to recover from. So the fitness coach is on a mission to educate individuals on the proper way to get the body they want without cutting out the food they love. Many people still believe the age-old notion that starving oneself to become thinner is the only way to go, resulting in the gradual development of eating disorders. Michelle, having gone through that herself, wants to make sure others don't follow that dark road.
CONSULTATION

We had an initial consultation call with Michelle Paulsen, where we identified her goals and requirements. On the call, we discussed the PR strategy we would implement in the upcoming months.

ROADMAP TO SUCCESS

Based on the needs of Michelle Paulsen, we worked with her to build out a roadmap of publications, a timeline, and a trajectory for success that will best elevate the digital authority of her brand.

GET TO WORK

We sent her a questionnaire that we would leverage to craft her content. Then, we began the process of content creation and getting her featured on the agreed publications.
Michelle Paulsen wanted to further boost her social media credibility and authority. We needed to craft a unique angle for Michelle's story and leverage our network of connections to get her featured on some of the most prominent media outlets.
Present Michelle Paulsen's success story from a unique angle and help her gain worldwide recognition.

Improve Google search presence for Michelle Paulsen and her work.

Boost social media credibility and authority by positioning Michelle Paulsen as an expert in her field.

Generate enough press so that it could, later on, be used as leverage to get on even bigger media outlets if needed as well as help her be a contributor on major websites.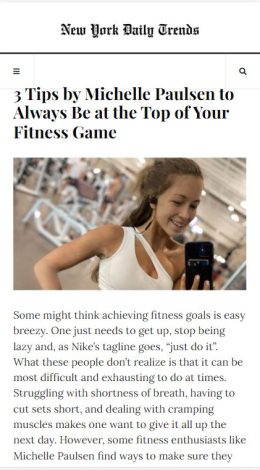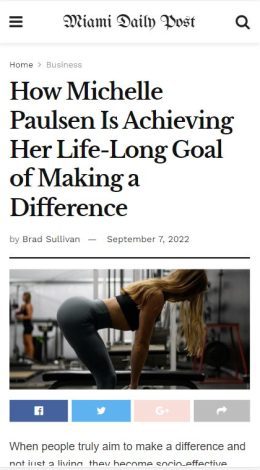 Michelle Paulsen featured in several publications, including The Hustler's Digest, NY Daily Trend, Miami Daily Post, Concept News Now, and more.

Created compelling content and strategically placed it on major media outlets to position Michelle Paulsen as an expert in her field.

Boosted press exposure and brand credibility tremendously. 

Attained a lot of robust media coverage and produced a lot of sources online which helped in authenticating her contributions as well as enhancing her online presence.