Arjun was raised in a hardworking family in Reno, NV. As he grew up, he became interested in all kinds of sports, games, and real estate. Bullying in elementary led to him taking up martial arts and excelling in them. TaeKwonDo has been a part of his journey for about 34 years. He achieved a Black Belt at the age of 11. Arjun always had a passion for entrepreneurship unleashed at the age of 17 when he started a TaeKwonDo school with a partner. By the age of 24, he was titled the youngest 5th degree in America and won 2 world championships while competing on the national team of the USA.
Arjun Dhingra is a leading mortgage and real estate consultant as well in the Bay Area, San Francisco who understands the significance of services of value. He stepped into the business of mortgage in real estate during college and has expanded it with his abilities and hard work. Helping people make financially responsible decisions and guiding them through the tedious process of mortgage work drives him to work harder. For him, it is one of the most satisfying and fulfilling things to be a source of guiding light for others. Where there are thousands using the naivety of new buyers and making money off it, he is dedicated to helping people save money rather than making a profit. 
Arjun has the required experience and passion to be the perfect choice for all those aiming to have a stress-free mortgage process. From finding the best rates to completing the application without any hassle, he is well-versed in the entire process. Working with Arjun Dhingra is the smartest way to navigate through the market on the West Coast.
His ability to focus and pay attention to all that is relevant in his mortgage client's life, discipline to do the right thing while valuing honesty, demonstrate respect and compassion to others in all situations and build confidence to face all sorts of attacks are all gifts of TaeKwonDo. Implementing these life skills into his business has earned him a tremendous name, respect, and appreciation. He is a true guide for all his clients and teaches them the importance of financial literacy. 
Arjun Dhingra came to us because he wanted to boost his brand further and strengthen his social media credibility and authority. He also wanted some contributor spots and interviewed on well-known TV shows.
CONSULTATION

We had an initial consultation call with Arjun Dhingra, where we identified his goals and requirements. On the call, we discussed the PR strategy we would implement in the upcoming months.

ROADMAP TO SUCCESS

Based on the needs of Arjun Dhingra, we worked with him to build out a roadmap of publications, a timeline, and a trajectory for success that will best elevate the digital authority of his brand.

GET TO WORK

We sent him a questionnaire that we would leverage to craft his content. Then, we began the process of content creation and getting him featured on the agreed publications.
Arjun Dhingra, a leading mortgage and real estate consultant wanted to boost his company and social media credibility and authority further. We needed to craft a unique angle for Arjun's story, help him get press features in different significant publications so that he could become a contributor on major websites, become a member of the Forbes Business Council and get him interviewed on famous TV shows.
Present Arjun's success story from a unique angle and help him gain worldwide recognition.

Improve Google search presence for Arjun and his company.

Boost social media credibility and authority by positioning Arjun Dhingra as an expert in his field.

Build the foundation to make Arjun Dhingra a contributor to the Forbes Business Council




Generate enough press so that it could, later on, be used as leverage to get on even bigger media outlets if needed

Attain enough media coverage to meet the eligibility criteria for social media verification, get him interviews on famous TV shows, and help him to be a contributor on major websites.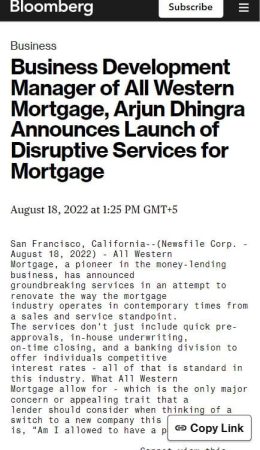 Got Arjun featured in several publications, including Benzinga, The Inscriber Magazine, Yahoo Finance, LA Progressive, and others




Created compelling content and strategically placed it on major media outlets to position Arjun Dhingra as an expert in his field

Helped Arjun Dhingra to become a contributor to the Forbes Business Council




Boosted press exposure and online presence tremendously, laying the initial foundation for social media verification in the future

Attained a lot of robust media coverage and helped him become a contributor on these websites Auburn Digest, Buzz Sentinel, and many others 

We got him in an interview on Las Vegas Now, CBS46 Atlanta Plugged In, and other shows which was an addition to authenticating his brand name and enhancing his online presence.
Arjun's Video Testimonial