Bobby Umar has been a professional trainer and motivational speaker for 15 years. He is also a social media influencer with over 650,000 followers across social media and provides coaching programs pertaining to his areas of expertise. He runs 3 businesses: Raeallan, DYPB, and Thought Leadership Branding Club. Through these initiatives, Bobby helps business professionals develop their leadership skills, innovate new ideas, and enhance their communication skills. 
He has received various awards and nominations for these and has also been named among the most influential people by various magazines and social platforms such as LinkedIn and Twitter. He is also a five times TEDx speaker and is the author of 3 international books, including an Amazon #1 bestseller.
He recently became a LinkedIn influencer and has built up a strong community on Clubhouse. His future aspirations include helping people find their true purpose, building his TLB Community on Clubhouse with 100,000 members, getting his 1 millionth social media follower, and getting on the TED.com stage to share his message.
He came to us because he needed help in getting more press exposure and increasing credibility for his brands.
CONSULTATION

We had an initial consultation call with Bobby Umar, where we identified his goals and requirements. On the call, we discussed the PR strategy we would implement in the upcoming months.

ROADMAP TO SUCCESS

Based on the needs of Bobby Umar, we worked with him to build out a roadmap of publications, a timeline, and a trajectory for success that will best elevate the digital authority of his brand.

GET TO WORK

We sent him a questionnaire that we would leverage to craft his content. Then, we began the process of content creation and getting him featured on the agreed publications.
Bobby Umar had a good following on social media platforms such as LinkedIn and Twitter. However, he didn't have enough press when he approached us. So what we needed to do was to present Bobby's story from a unique angle, and leverage our network of connections to get him featured in numerous media publications.
Create powerful content that showcases Bobby Umar's story in a unique way.

Boost brand credibility and authority by positioning Bobby as an entrepreneurial leader.

Leverage Bobby's story along with our network of connections to get him featured on major publications.

Generate enough press so that it could later be used as leverage to get on even bigger media outlets if needed, and at the same time lay the foundation for social media verification.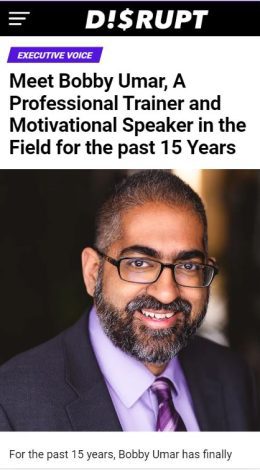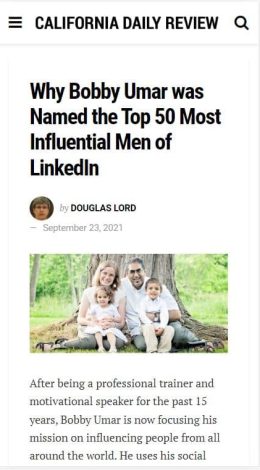 Got Bobby Umar featured on some major publications like Disrupt Magazine, The Hustler's Digest, California Daily Review, and many more.

Created strong content and strategically got it placed on media outlets to position Bobby Umar as an entrepreneurial leader.

Tremendously boosted press exposure, brand credibility, and Google search presence for Bobby Umar. 

Attained a lot of powerful media coverage, hence laying the initial foundation for social media verification in the future.