Growing up, Kardell Sims had pretty limited choices. Being the second child of a 16-year-old mother, his poor circumstances and background left him hustling and drug dealing at a reasonably young age. By the time he was 15, Kardell had already been involved in the first case that charged him with first-degree assault. However, life gave him another chance when his basketball coach spoke on his behalf in court and took him in as a foster child after he got out on probation.
At that point, Kardell had no mind changing the course of his life. As soon as he walked out of the prison gates, he was out on the streets again, And for two long decades, he lived his life the same way before making the ultimate mindset shift.
While incarcerated in the federal prison, Kardell finally realized that the first victim of his actions would be none other than himself. The awareness led him to make a decision that would allow him to live an honorable and successful life. Hoping to stay away from criminality once he got out, he spent his federal time putting together all his visions, plans, and goals to not return to prison again. And when he walked out of the prison gates, he had nothing but a plan he had put together while being incarcerated.
Since then, Kardell has been not only working to better his own life but he's also mentoring other individuals facing similar problems. Now, he serves as a master-certified empowerment coach, business owner, re-entry specialist, and prison prevention mentor. Pouring his time and experience, Kardell is giving back to those who are still on their journey to change.
Kardell Sims came to us because he wanted to boost his business further and his social media credibility and authority.
CONSULTATION

We had an initial consultation call with Kardell Sims, where we identified his goals and requirements. On the call, we discussed the PR strategy we would implement in the upcoming months.

ROADMAP TO SUCCESS

Based on the needs of Kardell Sims, we worked with him to build out a roadmap of publications, a timeline, and a trajectory for success that will best elevate the digital authority of his brand.

GET TO WORK

We sent his a questionnaire that we would leverage to craft his content. Then, we began the process of content creation and getting him featured on the agreed publications.
Kardell Sims wanted to further boost his business as well as his social media credibility and authority. What we needed to do was to craft a unique angle for his story and help him get press features in different major publications.

Present Kardell Sims's success story from a unique angle and help him gain worldwide recognition

Improve Google search presence for Kardell Sims

Boost social media credibility and authority by positioning Kardell Sims as a successful actor

Generate enough press so that it could, later on, be used as leverage to get on even bigger media outlets if needed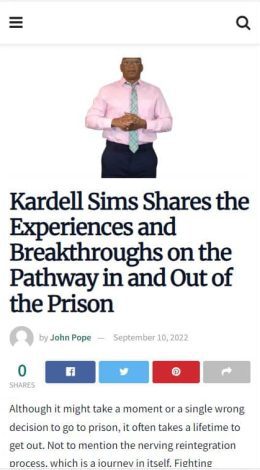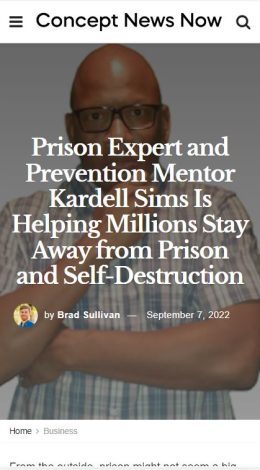 Got Kardell Sims featured in several publications including The Hustler's Digest, Miami Daily, Buzz Sentinel, Euro News Daily, and more




Created compelling content and strategically got it placed on major media outlets to position Kardell Sims as an expert in his field




Boosted press exposure, and online presence tremendously




Attained a lot of powerful media coverage, hence laying the initial foundation for social media verification in the future