Sacred Thomas, originally from Miami, Florida. He grew up with his father, Philip Michael Thomas, an actor on the 1980s TV series Miami Vice, and his mother, Cassandra Thomas, who was a model. Sacred has three brothers and one sister. According to Sacred, the most valuable lessons he received from his parents were to be creative and dream big. 
Meanwhile, the business venture was doing quite well as they expanded to taking private tours and renting out their buses for special occasions. However, the young entrepreneur wasn't satisfied, since his goal was to create a life that he would love from dawn to dusk. After seven successful years of running the party bus company, Thomas finally ended up pivoting towards video production.
From shooting weddings, commercials, fitness videos, and food conferences to filming TEDx events and documentaries, Sacred Shot Media has made its name in video production. Recently, Thomas had the experience of walking as well as filming at the prestigious event of New York Fashion Week. The passionate videographer doesn't want to stop at that, he intends to pursue bigger projects while improving his craft.
Sacred Thomas is one such influencer, making it in his own special way. The young videographer has been doing extraordinarily well on social media platforms, teaching the world that life is all about passion and consistency. Although his social media following grew only a couple of years ago, Thomas had been working on building up a sizable following for almost a decade.
Sacred Thomas is the founder of Sacred Shot Media, a company specializing in documentary-style storytelling while filming weddings, fitness videos, food conferences, live concerts, commercials, and whatnot. The young entrepreneur has also been a part of filming 'Tiger Kingdom', which is a spinoff of the Netflix hit film 'Tiger King' and features Doc Antle and his Myrtle Beach Safari.
CONSULTATION

We had an initial consultation call with Sacred Thomas, where we identified his goals and requirements. On the call, we discussed the PR strategy we would implement in the upcoming months.

ROADMAP TO SUCCESS

Based on the needs of Sacred Thomas, we worked with him to build out a roadmap of publications, a timeline, and a trajectory for success that will best elevate the digital authority of his brand.

GET TO WORK

We sent him a questionnaire that we would leverage to craft his content. Then, we began the process of content creation and getting him featured on the agreed publications.
Sacred Thomas wanted to further boost his social media credibility and authority. We needed to craft a unique angle for Sacred's story and leverage our network of connections to get him featured on some of the most prominent media outlets.
Present Sacred Thomas's success story from a unique angle and help him gain worldwide recognition.

Improve Google search presence for Sacred Thomas and his work.

Boost social media credibility and authority by positioning Sacred Thomas as an expert in his field.

Generate enough press so that it could, later on, be used as leverage to get on even bigger media outlets if needed as well as help him be a contributor on major websites.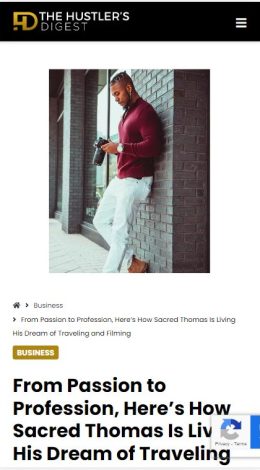 Sacred Thomas featured in several publications, including The Hustler's Digest, NY Daily Trends, Concept News Now, Miami Daily Post, and more.

Created compelling content and strategically placed it on major media outlets to position Sacred Thomas as an expert in his field.

Boosted press exposure and brand credibility tremendously. 

Attained a lot of robust media coverage and produced a lot of sources online which helped in authenticating his contributions as well as enhancing his online presence.